Isaias Released Prisoners He Never Had!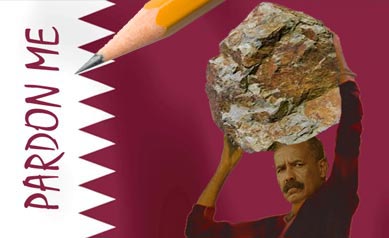 On Monday, February 29, Djiboutian President Ismail Guelleh stressed that he will not have a talk with Isaias Afwerki of Eritrea unless he releases the Djiboutian POWs missing since 2008.
For eight years Isaias Afwerki has denied a battle was fought between the two countries let alone to admit he had Djiboutian POWs in that battle. All that changed on Friday, March 17, when like a magician pulling out a rabbit from a top hat, Isaias produced four Djiboutian POWs.
The Qatari Foreign Minister, Mohammed Bin Abdelrahman AlThani, accompanied them to Djibouti in a private plane that brought them from Asmara to Doha earlier in the morning.
Isaias made news by releasing the POWs he claimed he never imprisoned. And the Qataris who have been playing the role of a foster parent for Isaias since 2008, breathed a reserved sigh of relief. For years they have been embarrassed enough because of their association with a misfit foster child they were cursed to adopt.
On April 2008, Eritrea and Djibouti fought one-day border skirmish following a similar skirmish in 1996 and another in 1999. In the last battle, after the guns went silent, Djibouti said it lost 19 soldiers. Soon information surfaced that a few days after the battle, six of the captured soldiers were buried deep inside the Eritrean border behind the battleground close to Dumera. They are believed to have been shot while trying to escape.
In 2013, two Djiboutian prisoners escaped from Heday prison, a facility in Sahel region administered by the presidential office, and made it safely to Sudan.
The prison is located in a remote mountain range between Afabet and Nakfa, it was originally built by the Italian, before WW2, as a garrison. The prisoners are believed to have escaped with the help of a prison guard who was killed along with one of the prisoners. However, the two made it to Sudan, and from there to their country where our sources indicated that one of the prisoners returned home only to find his wife has given up on him returning alive, and remarried.
According to our tally, Isaias and his government owe Djibouti the remains of at least six prisoners though not many expect any of them are still alive. If they are, provided Isaias wants to make another news, Qatar might be required to send yet another plane to have them delivered to Doha for a medical check-up, a short shopping spree for new clothes, and then fly them back to Djibouti. However, all of that is very unlikely to happen.
Last Friday, Isaias had finished his official visit to Doha when the Qatari government surprised the world by announcing the release of the four POWs. Finally, Isaias succumbed and surprisingly he released the prisoners whom he never admitted were in his custody.
Informed sources say that Isaias has found it opportune to present his defeat as a goodwill gesture by releasing the prisoners, a step which might boost his efforts for coziness  with Saudi Arabia which is leading a Sunni Muslim coalition in the Middle East and the Horn of Africa region. The sources also indicate that Isaias was accepted in the Saudi led coalition only to buy his neutrality despite the misleadingly exaggerated news that has been circulating around about his involvement in Yemen. And since he is aware that he is placed on the fringes of the coalition, he chose to appease his erstwhile sponsors, the Qataris and attract the attention of Saudi Arabia .
Admitting he has the POWs after eight years of adamantly denying their existence, and releasing them after he was cornered, is a concession that he expects to be handsomely rewarded for by Qatar. However, if the Qataris do not satisfy his needs, he is expected to try to switch allegiance once more and lean closer to the Saudi-UAE Sunni wing, at the expense of the Turkey-Qatar Sunni wing. Not many Eritreans appreciate such a gamble.
It became clear in the course of the latest episode that Isaias who adamantly insisted that he knows nothing about the prisoners, similar to his "who is Joshua?" remark, has finally stated that General Abraha Kassa and General Simon Gebredingel are in charge of the prisoners. Evidently he is already introducing the fall guys to the world for the eventuality of the bad day when his time is up.
Isaias insisted on meeting Guelleh face to face
On February 28, President Ismael Guelleh has arrived in Qatar on a three-day official visit where the Qataris were hopeful he would agree to meet Isaias Afwerki of Eritrea who requested a face to face meeting. The Djiboutian president indicated his unwillingness to meet Isaias until he releases the POWs and returned to Djibouti shortly before Isaias arrived.
Isaias has always kept the POWs as a bargaining chip to secure a face-to-face meeting with Ismail Guelleh who he believes is in cahoots with the USA and Ethiopia to weaken Eritrea. And this was not the first time his request was rejected by Guelleh. In March 2013, Ismail Omar Guelleh indicated that he will not show up to meet Isaias unless Qatar provides assurances that he will honor the terms of the agreement: withdraw Eritrean troops and negotiate in good faith on the matter of prisoners of war.
In April 2014, Djibouti handed over 250 Eritreans who were incarcerated since 2008; they were escapees who fled the indefinite forced conscription in their country and crossed to Djibouti. Djibouti considered the trained conscripts risky to its national security and treated them like POWs. To date, there are nineteen POWs still held in Djibouti—they could have been kept in relation to the 19 Djiboutian soldiers missing since 2008. Given the chance to be free, not many of them are expected to be willing to return to Eritrea.
In November 2014, Dr. Khalid Bin Mohammad Al Attiyah, Qatar's previous foreign minister, "has returned empty handed after a secret visit to Asmara." Isaias Afwerki had promised to release the Djiboutian prisoners of war and hand them over to Qatar. Al Attiyah was supposed to bring along the Djiboutian POWs when he returned to Qatar. Isaias denied he had any Djiboutian prisoners and said the only prisoner Eritrea had was Master Corporal Ahmed Abdullah Kamil and he was already released and handed over to Qatar. Eritrean forces had detained the Djiboutian officer who crossed to Eritrea  accompanying Qatari officers tasked with patrolling the border between the two countries.
Last Tuesday, the Amir of Qatar told Isaias Afwerki they could not help him unless he releases the POWs, but Isaias was not receptive to the request. According to our sources, his mood changed when the Qataris showed him cellphone-shot images of the Djiboutian prisoners who were held at the Afabet prison since 2013. The Afabet prison is where the government keeps Ethiopian, Somali and Sudanese prisoners from the opposition.
After watching the clips, Isaias burst in anger and accused the CIA of taking the pictures! But soon, he calmed down and agreed to talk to his security officers. By the next day, Friday, a Qatari airplane flew to Asmara and in hours returned with the four prisoners.
Our sources indicate that "two foreign intelligence agencies have been attempting to facilitate the escape of the prisoners from Afabet prison and has been in the works for several years," with no success.
When reality hit home, the man who boasted on many occasions that he performs better when challenged and when under pressure, succumbed. The recent episode in Isaias' adventures proved that he doesn't like to be cornered because he succumbs to fear, and this time he was very nervous.
Now that the Djiboutian POW crisis is partially resolved, Eritreans are asking themselves: who lobbies for the thousands of Eritrean prisoners?
An Eritrean comedian from Asmara commented: "Maybe the relatives of Eritrean prisoners [should] apply for Djiboutian citizenship on their behalf, then Djibouti would mediate their release."
An Eritrean human rights advocate commented, "it is frustrating, Eritreans are among the few people who do not have a government that protects them, they have one that oppresses them."
Related Reading:
Qatar Planned Meeting Between Eritrean And Yemeni Presidents Fail/ (August 21, 2015)
Eritrea Sanctions Due To Djibouti Ethiopia Policies (October 22, 2015)
Isaias Resumes Pilgrimage To Qatar (Gedab News: March 2, 2014)
Isaias Arrives In Cairo To An Arab League Condemnation (Gedab News: Sept. 9, 2014)
Eritrea Detains A Djiboutian Officer And Embarrasses Qatar/ (Gedab News, Aug 10, 2014
Isaias Afwerki Hijacks Qatar Airways (Gedab News, Aug 14, 2014)
Djibouti and Isaias Afwerki's Secret Visit To Qatar (Gedab News: April 1, 2013)
Eritrean Strongman Asks Qatar To Mediate Dispute With Ethiopia (Dec. 13, 2012)
"Eritrea Klashnikov Diplomacy" (The Pencil, October 11, 2010)
Eritrea Djibouti Mediation Agreement (Gedab News: Oct. 4, 2010)
Qatari Forces Deployed On The Eritrean-Djibouti Border (Gedab News: June 2, 2010)
Eritrea Has Lost 25-30 Soldiers" In Djibouti (Gedab News: June 17, 2008)