Eritrean Strongman Asks Qatar To Mediate Dispute With Ethiopia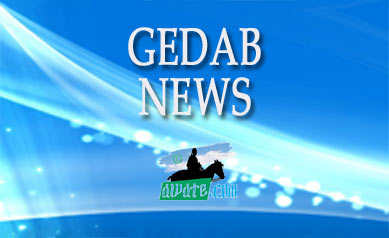 Eritrean president Isaias Afwerki has asked Qatar to mediate his long-standing feud with "arch-rival" Ethiopia.   This message was communicated to the new Ethiopian Prime Minister, Hailemariam Desalgn, by Qatar, while the Ethiopian prime minister was conducting a state visit.
Isaias Afwerki has offered to attend mediation talks without any pre-conditions.
In an interview with Al Jazeera, Hailemariam Desalegn told his interviewer that he would be willing to travel to Eritrea to hold face-to-face talks with Isaias Afwerki and that this was a long-standing Ethiopian policy:   "My predecessor Meles Zenawi had asked for more than 50 times even to go to Asmara and negotiate with Mister Isaias Afwerki," he said.
Qatar, which is showing greater interest in the region, is weary of the growing Turkish influence in the Horn of Africa. Recently, the Turkish foreign minister visited Asmara at the invitation of Isaias Afwerki, who wanted him to mediate between the new Somali regime and the Eritrean regime. But while in Asmara, Isaias also informed the Turkish foreign minister that he is working to normalize relations with Ethiopia and that he had asked Qatar to mediate.
Isaias Afwerki is facing internal crisis represented by acute shortage of electricity, water and basic food items including milk throughout Eritrea.  This has exacerbated the crisis within the military where morale has hit rock bottom due to the confusing command and control hierarchy–where Isaias bypasses his direct reports to communicate directly with more junior officers–mass desertion which has hollowed out the forces, inadequate salaries and rampant corruption within the officer class.
To head off revolt within the armed forces, Isaias Afwerki has started to arm the entire civilian population and to structure them in what is known as Hzbawi Serawit, or People's Army, modeled after Communist China, where Isaias Afwerki received his first revolutionary indoctrination in the 1960s.
In the streets of Eritrea, old men and women carrying AK-47s is a common sight.  It is not unusual to witness women carrying AK-47s while holding their babies and farmers as old as sixty plough their land while carrying their guns.
Isaias Afwerki is on record, repeatedly, for stating that he would never enter into negotiations with Ethiopia other than to discuss the mechanism for strict implementation of the ruling of Eritrea-Ethiopian Boundary Commission (EEBC.) While a separate body, the Eritrea Ethiopia Claims Commission (EECC) largely put the blame on Eritrea for starting the war,  the symbolic flashpoint of the border war, Badme, was awarded to Eritrea by the EEBC.  The Boundary Commission ended up conducting  "virtual demarcation" after being frustrated by Ethiopia's refusal to strictly abide by the ruling and demanding dialogue on implementing the ruling purportedly to avoid disrupting the lives of Ethiopian citizens.
Isaias Afwerki also has a history of acting in way diametrically opposed to his loud and frequent assertions, but only after he has been penalized for his intransigence.  For one thing, after repeatedly telling the United Nations that he had no dispute with Djibouti and therefore nothing to resolve, he agreed to mediation (Djibouti Eritrea Mediation Agreement) without acknowledging to his people that he had done so.  However, in the interim, the UN had imposed sanctions (S/Res/1907(2009)) on Eritrea in no small part due to Isaias's refusal to admit that he went to war with Djibouti, that he is holding Djibouti prisoners of war, and that he should admit this and seek resolution.
The mediator for the Eritrea-Djbouti dispute is also Qatar, which has stationed its armed forces in a buffer zone between Eritrea and Djibouti.
awate.com
inform.  inspire. embolden. reconcile.