Isaias Arrives In Cairo To An Arab League Condemnation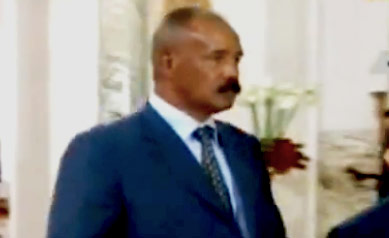 In a press release issued on Sept. 7, 2014, the League of Arab States meeting, held at the level of Arab foreign ministers condemned Eritrea for "the kidnapping of a Djiboutian soldier from the demilitarized zone" on the border between Eritrea and Djibouti.
The Arab League "demanded the State of Eritrea to release [the soldier] immediately and hand him over to the State of Qatar since it is the mediator in the dispute between the two countries."
On July 25, 2014 the Eritrean forces had arrested the Djiboutian soldier who was accompanying Qatari officers who are part of the force monitoring the demilitarized zone.
Neither Sudan nor Qatar, the only two countries in the region that has favorable relations with the Eritrean president abstained or voted against the Arab League condemnation which was adopted by consensus.
Gedab News learned that Djibouti has prepared a draft resolution to end the Qatari mediation and escalate its issue with Eritrea to the UN; the draft will be submitted to the upcoming Arab League summit for adoption.
The condemnation of the Arab League whose headquarters is in Egypt is significance because its issuing coincided with the arrival of Isaias Afwerki in Cairo for a two day visit.
The visit to Egypt comes at the request of the Eritrean president; it is his second visit to Cairo since June 2014 when he attended the inauguration of General alSisi's as the new president of Egypt.
Isaias Afwerki had established relations with the Mursi who stayed in power for thirteen months before he was deposed by the military in July 2013. Several visits by Eritrean officials were made at the height of the diplomatic squabble between Ethiopia and Egypt over the "Great Ethiopian Renaissance Dam [GERD]".
The diplomatic wrangling didn't hamper the construction of GERD and the differences between Ethiopia and Egypt seems to have subsided as the two countries seem to have ironed out major differences and are continually discussing minor details.
On September 4, 2014, Egypt's Foreign Minister, Sameh Shukri, visited Addis Ababa and held talks with his Ethiopian counterpart Dr. Tedros Adhanom.
The two ministers agreed to form "a join Ministerial Commission to nurture historic ties and launch continued growth of bilateral cooperation in selected areas of common interest."