Isaias Resumes Pilgrimage To Qatar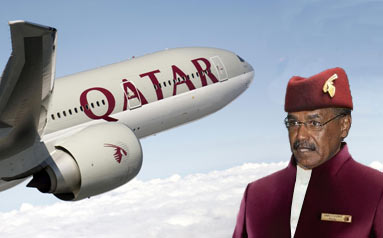 After his last trip to Qatar in April 2013, the Eritrean president, Isaias Afwerki, arrived today in Doha, Qatar.
Since his visit last year, a follow up trip had been postponed three times by the Qataris.
Unlike other heads of states, Isaias was not received at the airport by the Emir of Qatar but by the Minister of Municipality and Urban Planning.
On February of 2013, a few weeks after the Forto incident that challenged his regime, Isaias received a Qatari envoy for talks regarding the Djibouti-Eritrean border which Qatar has been mediating to resolve the crisis without success since the secret agreement was signed on June 2, 2010.
In March 2013, a Qatari envoy met Isaias to talk about the stalled Qatari proposal to fund and build a joint Eritrean-Djiboutian trading zone. Qatar had offered to finance (funding: $150 million) the project which was planned to be executed in the disputed area of Dumera. Qatar had lined up European construction companies to execute the project.
Isaias had insisted that the funds be entrusted to the PFDJ to execute the construction project through companies that his ruling party owns, and that Segen construction company should oversee the project.
The Qataris rejected Isaias' proposal and the project was put on hold. Meanwhile, Djibouti had threatened that it would give up on the stalled Qatari negotiation and take its border dispute issue straight to the UN, a plan averted by France which doesn't want to bring the issue of Djibouti into the limelight for domestic reasons.
Meanwhile, last month, a senior Egyptian intelligence team visited Eritrea and inspected the camps of the armed Ethiopian opposition. The Egyptians talked with the Eritrean regime about their intentions to offer satellite media access to the Ethiopian opposition. They also talked about attempts to get Sudan to agree to facilitate transportation for arms and logistics destined to the Ethiopian opposition. Egypt telegraphed its plans to support the Ethiopian opposition in Eritrea; however, Sudan has adamantly refused to cooperate or get involved in the Egyptian project.
Egypt has devised a strategy to exert pressure on Ethiopia through the Isaias regime until it reaches an agreement over the Grand Ethiopian Renaissance Dam (GERD) that Ethiopia is building on the Nile River.
Another significant issue is the rift between Qatar's and Eritrea's position regarding the current Egyptian regime. Qatar has been on the forefront discrediting the regime that was formed by General Sisi after overthrowing Morsi's government. Qatar's staunch position against the Egyptian government has put it at loggerheads with its immediate neighbors: Saudi Arabia and UAE, two countries that are fiercely supporting the Egyptian government. Isaias has cozied up to the Egyptian government, putting a strain on his relations with his former benefactors, the Qataris.
Isaias' didn't attend the coronation ceremony of the current Emir, Sheik Temim, who was handed power by his father, Shiek Hamad, who was a close friend of Isaias Afwerki.
Related reading:
Eritrea Djibouti Mediation Agreement
Isaias Afwerki's Secret Visit To Qatar
Eritrean Strongman Asks Qatar To Mediate Dispute With Ethiopia