Eritrea Sanctions: Due To Djibouti, Ethiopia Policies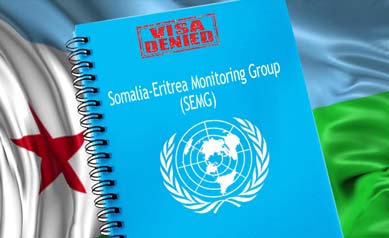 The UN's Security Council is set to extend the mandate of the Monitoring Group on Somalia and Eritrea (SEMG) for a year and will not lift the sanctions on Eritrea for at least another year, according to draft resolution that has been circulated.
SEMG Report Summarized
In a 93-page SEMG report that the Sanctions Committee presented to the Security Council, the Group finds the following with respect to UN resolutions1862 (2009), 1907 (2009), 2023 (2011) and 2182 (2014):
1. By denying it permit to enter Eritrea, the government did not show "full cooperation, contrary to resolution 2182 (2014)";
2. While it cannot confirm that Eritrea is in violation of resolution1907 (2009) on arms embargo, it cannot rule it out either due to "multiple inconsistencies and established patterns" dealing with cargo manifest of a ship (Shaker 1) that docked in Massawa;
3. The government of Eritrea continues to support armed Ethiopian opposition groups–Tigray People's Democratic Movement (TPDM), Patriotic Front, Ginbot Sebat, Arbegnoch and/or their united front–"in violation of resolution 1907 (2009)";
4. The government of Eritrea's refusal "to engage or provide information on the issue of the prisoners of war from Djibouti constitutes an obstruction of resolution 1862 (2009) and that those responsible should be considered for targeted measures under resolution 1907 (2009)."
While ruling out that Eritrea's alleged security agreement with Saudi Arabia and United Arab Emirates to "use Eritrean land, airspace and territorial waters in its anti-Houthi military campaign in Yemen" constitutes a violation of UN resolution, the Monitoring Group states that the alleged embedding of Eritrean soldiers in UAE forces, if true, would constitute a violation of UN resolutions.
With respect to other alleged Eritrean government activities that resulted in the imposition of UN resolutions, SEMG:
1. rules out a relationship between Eritrea and Al-Shabab;
2. is unable to document cases of harassment and coercion used by the government to collect the 2% Diaspora tax, attributing it to the environment of fear that pervades the Eritrean Diaspora;
3. in unable to document if funds generated from mining revenues–estimated at $755 million from 2011 to 2014–have been diverted to fund activities banned by the UN;
4. is unable to make a judgement on the significance of the decision by TPDM's chairman, and his 800 followers, to leave Eritrea and return to Ethiopia;
5. is unable to verify Djibouti's claim that Eritrea is supporting a Djibouti armed rebel group.
Government of Eritrea Replies Summarized
The Government of Eritrea gave oral and written replies to the inquiries of the SEMG.  Its position is as follows:
1. Since the reason for the UN sanctions were (a) Eritrea's alleged relationship with Al-Shabab and (b) its failure to acknowledge its dispute with Djibouti and since (c) SEMG has established Eritrea has no relationship with Al-Shabab and (d) the Government of Qatar is mediating the Djibouti-Eritrea conflict, there is no longer a rationale for the sanctions and they should be lifted;
2. SEMG has no mandate to monitor Eritrea-Ethiopia relations and, by extension, the presence of armed Ethiopian opposition groups in Eritrea;
3. Eritrea is not obligated to account for Djibouti prisoners of war to the SEMG as that, along with six other issues, is now the responsibility of the mediator, the government of Qatar;
4. Eritrea has the right to tax its citizens, and imposing administrative penalties for non-compliance is not a form of coercion;
5. The revenues it generates from mining and 2% Diaspora tax are far less than what the government spends on social services and, therefore, "the potential or probability of diverting RRT [Rehabilitation and Recovery Tax] to other activities is zero";
6. Eritrean soldiers are not embedded with the United Arab Emirates armed forces.
Draft Resolution
The UN Security Council is made up of five permanent members (US, UK, France, Russia, China) and ten non-permanent members (Angola, Chad, Chile, Jordan, Lithuania, Malaysia, New Zealand, Nigeria, Spain, Venezuela.)  The chair of the Sanctions Committee on Somalia and Eritrea is Venezuelan.
According to the draft report, Venezuela, Angola, Chad, Nigeria, China and Russia wanted a categorical statement that there are no links between Eritrea and Al-Shabab; others wanted the language from previous report–there is no evidence that there is link between Eritrea and Al-Shabab–to remain.
On the issue of financial transparency, some security council members appear to have supported the Eritrean position that it infringes on national sovereignty, while others argued that without it, the sanctions committee cannot verify if Eritrea is in compliance with UN Resolution 2023.
The draft resolution suggests that its language will be slightly weakened compared to previous resolution.
This leaves the question of Djibouti and Ethiopia. The case of Djibouti, and its prisoners of war, was one of the two main causes for imposing sanctions in 2009. The Qatari mediation has been going on since 2010–a full five years, longer than the time it took to arbitrate the Eritrea-Ethiopia border conflict–with nothing to show for it.
Meanwhile, despite the fact that there is clear language in UN resolutions 1907 (2009) and 2023 (2011) forbidding the government of Eritrea from "harbouring, financing, facilitating, supporting, organizing, training or inciting individuals or groups to perpetrate acts of violence in the region"–a clear reference to armed Ethiopian opposition groups–the government of Eritrea maintains that the "Eritrea-Ethiopia relationship" is outside the mandate of the Monitoring Group.
Until Eritrea resolves these two issues to the satisfaction of the Security Council, it is unlikely that the sanctions will be lifted.