Eritrea Detains A Djiboutian Officer And Embarrasses Qatar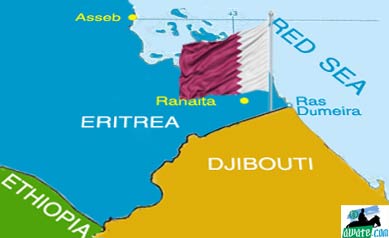 Last week Eritrean forces detained Master Corporal Ahmed Abdullah Kamil , a Djiboutian officer who was accompanying Qatari officers to the Eritrean side of the demilitarized zone between the two countries.
Qatar has been unsuccessfully mediating between Eritrea and Djibouti since 2010, following the border clashes between the two countries two years earlier.
Under the auspices of Sheikh Hamad Bin Khalifa Al Thani, the former Amir of Qatar, the two countries had reached an agreement based on which a Qatari military contingent arrived to monitor a buffer zone between Eritrea and Djibouti.
Qatari officers usually move between the camps of the two armies for meetings and consultation, but last Wednesday, the Eritrean forces detained the Djiboutian companion of the Qatari officers in the Rahaita region. The Qatari officers were forced to return to camp leaving behind their Djiboutian companion.
This has created tension in the border area which is now totally closed hampering the movement of the residents of the region, Djiboutian and Eritrean Afaris who straddle the border of the two countries.
A senior Qatari military delegation headed by Colonel Nasser Abdella had arrived in Djibouti and discussed the situation with General Zekaria Sheikh Ahmed, the chief of staff of the Djiboutian armed forces.
An expert on the region told Gedab News, "The detention of the Djiboutian officer and the disrespect of the Qatari officers is Isaias Afwerki's way of telling all concerned that he has issued the death certificate for the Qatari mediation."
Until last year, Qatar was one of Isaias Afwerki's main diplomatic and financial backers. It has stopped its support due to serious differences with Eritrea over regional issues, particularly Isaias' support of General Abdelfattah Al Sisi of Egypt whose government Qatar considers illegitimate.
Gedab News sources indicated that, "Isaias will visit Egypt soon, and he will meet General Al Sisi."
An observer stated Isaias Afwerki has given up on Qatar and, "he is maneuvering to end the mediating role of Qataris and transfer the border case to the UN hoping that will give him leverage to ameliorate his diplomatic isolation."  If that is the case, it would be an ironic development since it is Isaias Afwerki's refusal to have the UN have a hand in the Djibouti-Eritrea mediation that partly led to the sanctions it imposed on Eritrea in 2009.
Sultan Abdulkadir Mohammed, the chief of Rahaita, has met Eritrean and Djiboutian officials to discuss the fate of the detained lieutenant but it is not known if that is his personal initiative.
Eritrea has yet to acknowledge the 19 Djiboutian prisoners it captured during the war six-years ago.
Related Reading:
Eritrea Djibouti Mediation Agreement (Oct. 4, 2010)
Eritrean Strongman Asks Qatar To Mediate Dispute With Ethiopia (Dec. 13, 2012)
Djibouti and Isaias Afwerki's Secret Visit To Qatar (april 1, 2013)
Isaias Resumes Pilgrimage To Qatar (March 2, 2014)