Eritrea Hands The Djiboutian Soldier Over To Qatar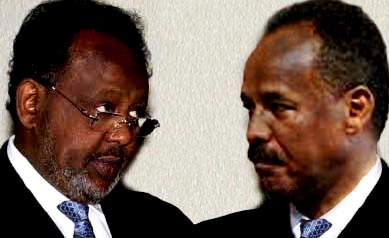 Awate.com – Gedab News: Over six-weeks after his arrest, and one week after the Arab League condemnation, the Eritrean regime handed the Djiboutian soldier it detained to the Qatari contingent which monitors the demilitarized zone between the two countries.
The soldier, Master Corporal Ahmed Abdullal Kamil, was detained from the demilitarized zone as he accompanied Qatari officers on the Eritrean side of the zone.
The Eritrean government neither explained nor admitted the detention of the soldier. Unofficial sources of the government, however, stated that the soldier was spying on Eritrea for the benefit of foreign entities.
Djibouti and Eritrea clashed over a border dispute in June 2008. On July 2010, based on the "Eritrea-Djibouti Mediation Agreement" a demilitarized zone was established in the border area monitored by a Qatari military contingent. Qatar brokered the deal.
While Djibouti released Eritrean POWs caught during the 2008 border clashes, Eritrea has yet to reciprocate. And since it detained the Djiboutian soldier over six weeks ago, several high level Qatari delegation, including one led by a senior Qatari military delegation headed by Colonel Nasser Abdella, had visited Asmara to persuade Isaias Afwerki's regime to release the Djiboutian soldier to no avail.
Qatar had close relations with both countries but recently, the Qatari-Eritrean relations has deteriorated due to the reconfiguration of political alliances among the region's countries.
After Qatari efforts failed to free its detained soldier, Djibouti threatened to walk away from the mediation agreement that was brokered by Qatar. It also indicated it will escalate its issue with Eritrea to the UN Security Council. As part of the escalation, it lodged a complaint to the Arab League which condemned Eritrea and asked it to "immediately hand over the detained soldier to Qatar."
Gedab News learned that Djibouti has called for an Arab-African ministerial meeting to present its complaints against Eritrea on the sidelines of the UN meeting in New York due next week.
Ethiopia has been sending subtle messages to the Eritrean regime that it will come to the defense of Djibouti. In an interview with Anadolu News Agency, Prime Minister Hailemarian Desalegn of Ethiopia said, "as close friends to Djibouti, Ethiopia is ready to support Djibouti in any way that helps the stabilization of the region."
Related Reading:
Isaias Arrives In Cairo To An Arab League Condemnation (Gedab News: Sept. 9, 2014)
Isaias Afwerki Hijacks Qatar Airways (Gedab News, Aug 14, 2014)
Eritrea Detains A Djiboutian Officer And Embarrasses Qatar/ (Gedab News, Aug 10, 2014
Eritrea Djibouti Mediation Agreement (Gedab News: Oct. 4, 2010)
Eritrean Strongman Asks Qatar To Mediate Dispute With Ethiopia (Gedab News: Dec. 13, 2012)
Djibouti and Isaias Afwerki's Secret Visit To Qatar (Gedab News: April 1, 2013)
Isaias Resumes Pilgrimage To Qatar (Gedab News: March 2, 2014)
Qatari Forces Deployed On The Eritrean-Djibouti Border (Gedab News: June 2, 2010)
"Eritrea Has Lost 25-30 Soldiers" In Djibouti (Gedab News: June 17, 2008)