Port Sudan: Body of Organ Harvesting Victim Found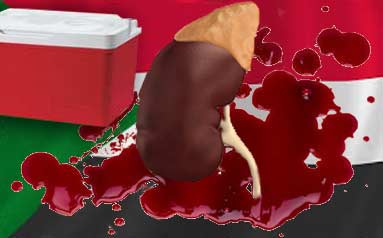 On a news item it carried on March 7, 2014, the Sudanese website alrakoba.net stated that "Sudanese police announced that it found a body of a mentally sick young person [identified by some people] at the Thewra neighborhood of Port Sudan."
Several organs were harvested from the body before it was discarded on the street.
For almost a decade now, Eastern Sudan, particularly the town of Kassala and its environs, have seen scenes of gruesome crimes related to criminals engaged in human trafficking and organ harvesting.
This is the first such crime to be reported from Port Sudan which receives lesser number of Eritrean refugees  compared to Kassala which is around thirty kilometers from the Eritrean border towns.
According to alrakoba, the police reached the crime scene after they were tipped by citizens who found the body, with clear signs of abuse, on a street. It further stated that  the police took the body to a morgue for an autopsy where it was declared that the heart, the kidneys and private parts of the body were harvested.
Gedab News called a contact who verified the news and said that "the operation to extract the parts seem professionally done which means knowledgeable medical personnel were involved in the crime." He also stated that, "this is the first time I hear of harvesting private parts."
Alrakoba also quoted the police as a saying the crime is a work of organized human traffickers.
It is unclear as to what the nationality of the victim is but for over a decade now, young Eritreans have been fleeing their homeland from gloomy living conditions, lack of future prospects and unlimited conscripted military service.  Many have ended up in Sinai, victims of human smugglers and organ harvesters.