Eritrea Might Sever Diplomatic Ties with Qatar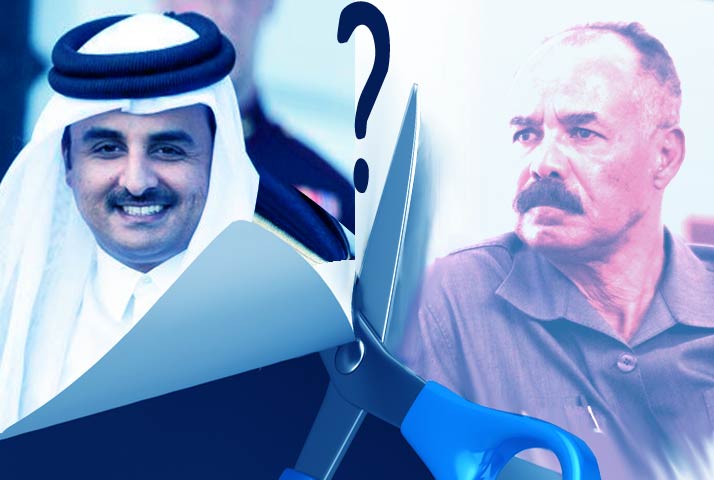 In a press release issued by the Ministry of information yesterday, the Eritrean government supported the cutting of diplomatic ties by Egypt, Saudi Arabia, the United Arab Emirates and Bahrain with the State of Qatar.
In what seemed a concerted decision, last week the four countries severed their diplomatic ties with Qatar in unison.
Their decision came soon after President Trump left Saudi Arabia after an official visit. Observers are still debating whether the USA president has anything to do with the unprecedented action.
In the press release, the government of Eritrea stated, "The decision that Egypt, Saudi Arabia, the United Arab Emirates and Bahrain have taken is not confined to Qatar alone – as the potential of Qatar is very limited."
The release also emphasized that the Isaias government considers the move "a timely issue that warrants [Eritrea's] active support."
Judging from his repeated statements, Isaias Afwerki must be agitating for a similar diplomatic step against Ethiopia, which he considers the cause of instability in the Horn of Africa region due to its engagement in Somalia. He also accuses Ethiopia of being behind the UN sanctions imposed on his government by the United Nations with the backing of Western governments, mainly that of the USA.
Asked if Sudan and Eritrea will follow suit and sever diplomatic relations with Qatar, a veteran Sudanese diplomat now in the opposition told Gedab News, "it is possible depending on the price the Saudis and the Emaratis or the Qataris are willing to pay" He added, "Qatar will not be effected either way, just a minimal diplomatic embarrassment, though Omar AlBashir and Isaias Afwerki are eyeing the largess of the involved countries, particularly Isaias will play an opportunistic role."
According to several diplomats who abandoned the Eritrean regime, "Isaias will weigh his relations with all the countries involved, including Russia and Turkey, before he breaks ties with Qatar though he can reverse his decision any time."
It is worth noting that any decision Isaias takes will affect the reactions of Iran, Yemen, and Israel, not forgetting the long-standing Egyptian-Ethiopian political maneuvering over the Nile waters. Isaias might find himself useful in that aspect.
However, many Eritreans do not think they have "a horse in the Shite-Sunni race" and the conflict that is manifesting itself devastatingly in many aspects of the lives of the people of the regions.