Qatar Airways Suspends Flight to Asmara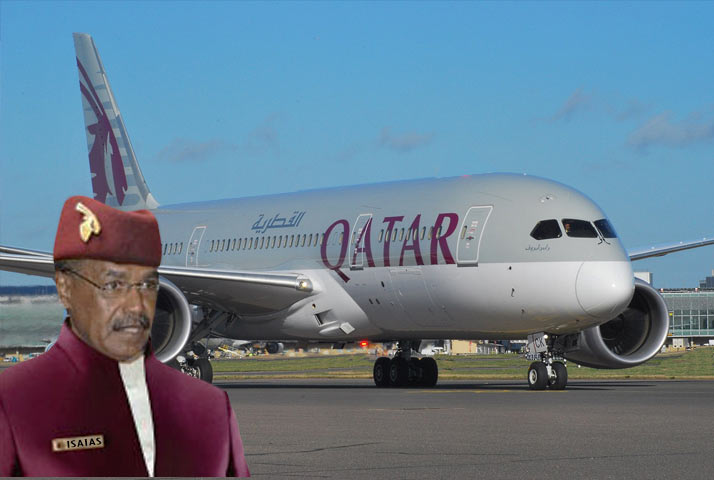 Amid fanfare and propaganda, in August, 2014, Qatar Airways announced it will launch a twice weekly flight to Asmara starting December 5, of the same year.
The launching of the flight was considered a concession to appease Isaias Afwerki the ruler of Eritrea who continually frustrated Qatar's mediation effort to resolve the border issue between Eritrea and Djibouti.
In March 2014, Qatar Airways had announced the launch of its flight to Djibouti and the Eritrean regime immediately demanded the airline include Asmara on its schedule to prove Qatar was not favoring Djibouti in its mediation efforts.
To add pressure to its demand, in August 2014, the Isaias regime arrested a Djiboutian officer, Master Corporal Ahmed Kamil, who was accompanying Qatari officers who were monitoring the border as part of the Qatar brokered Eritrea-Djibouti mediation efforts. It accused the officer of being a CIA spy who penetrated the Qatari forces.
Soon, Qatar yielded to Isaias' demand. A few days after the arrest of the Djiboutian officer, Qatar Airways announced its scheduled flights to Asmara in an announcement that had a striking resemblance to the one it issued on March 23, 2014 when it announced plans to fly to Djibouti.
To normalize relations between the two clashing countries, Qatar had embarked on a high-profile mediation. But its efforts have achieved little since the three-day border clash of June, 2008. Eight years after the clash, and years of serious mediation efforts by Qatar, has not resulted in completely ending the border issue between the two countries.
Yesterday, the state-owned Qatar Airways announced it will suspend its flights to Asmara exactly two years after it was launched, and flight QR1443 that was supposed to fly to Asmara out of Doha on December 4, will not operate.
Since the independence of Eritrea in 1991, the Isaias regime has failed to establish a stable airline to efficiently connect the country with the outside world. Many startup airline businesses had closed shop shortly after starting due to interference by the ruling party's business arm which monopolizes the economy of the country.
All previous attempts of the Eritrean regime to have a national carrier have failed due to mismanagement. Several entrepreneurs who attempted to fill the void also failed due to interference and lack of efficient administration by the government. Pilots and other professional in the airline industry have left the country in frustration.
Related Reading:
Isaias Resumes Pilgrimage to Qatar  (March 2, 2014)
Eritrea Detains a Djiboutian Officer And Embarrasses Qatar (Aug 10, 2014)
Isaias Afwerki Hijacks Qatar Airways (Aug. 14, 2014)
Isaias Released Prisoners He Never Had!  (March 21, 2016)