Eritreans In Sweden Demonstrate Against Tyranny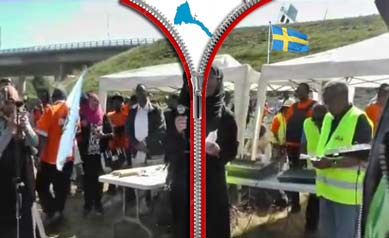 Eritreans in many parts of the world are demonstrating against the government sponsored festivals.
Every summer, the Eritrean embassies hold festivals to empower their ever dwindling Dispora support base. Usually, such festivals are attended by senior government officials, but in previous years many of them have been arrested or exiled. Abdella Jabir, one of the last officials who attended such festivals has been jailed with scores of others since January 2013. He was not formally accused or tried and his situation is unknown.
Over the weekend, Eritreans in Sweden flocked to Stockholm to demonstrate against the government festival in the outskirts of Stockholm.
Diaspora Eritreans who have so far been polarized along religious and regional lines have broken the walls of fragmentation and in an unusual show of unity, all sectors of the society were represented in the demonstration.
One of the organizers explained to Gedab News, "our people fell prey to the subtle mechanization of the Eritrean regime that divided our people." He added, "we are not divided anymore and we exhibited that in Stockholm."
Meanwhile, Eritreans in Eritrea are becoming very apprehensive of the Diaspora elements who support the regime. A frozen government official from Asmara told Gedab News, "people are expressing their anger every time they see reports of the festivals in support of the regime on television." In a language common among opposition elements, he said, "all they care about is to have parties where they live, or to come [to Eritrea] as tourists; they do not care about our situation."
Further reading:
Awate.com interview with Arhe Hamednaka
Donald Borström's interview with Isaias Afwerki (Video)
Sweden Might Arrest Eritrean Officials On Arrival (Gedab News, Aug.6, 2014)
Swedish Policy On Eritrea: The Carrot Or The Stick? (Gedab News, Aug. 4, 2014)