Swedish Policy On Eritrea: The Carrot Or The Stick?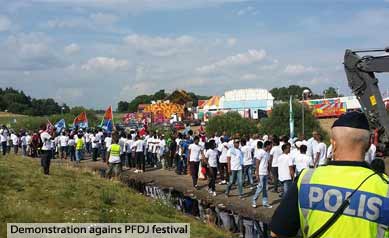 Gedab News learned that last week a delegation of 11 Eritrean Government officials including the foreign minister, Osman Saleh, and the presidential adviser, Yemane Gebreab, cancelled their planned travel to Sweden in the last minute.
The delegation had planned to attend the Eritrean government organized festival in the outskirts of Stockholm, Sweden.
On July 30, gabeel.com stated that the Swedish Government informed the Eritrean Embassy in Stockholm, that members of the Eritrean government will not be allowed to enter Sweden.
On Friday, Gedab News called the foreign ministry affairs of Swedish to confirm the news but the speaker couldn't confirm or deny the information and that all officials were already left for the weekend.*
Meanwhile, Eritrean Swedes held a three day demonstration to register their opposition to the festival that was held between Aug 1 – 3, 2014. It was the largest ever demonstration held by the opposition in Sweden.
The festival and the demonstration against it happened amid damaged diplomatic relations between Sweden and Eritrea, particularly over the fate of Dawit Issak, an Eritrean-Swede who has been in jail in Eritrea since 2001 without charge and without visitation rights.
An observer stated that, "The Swedish ruling center-right alliance seem to have given up after failing to secure the release of Dawit Isaak despite the massive Swedish public outcry for action and the government's diplomacy to cajole the Eritrean government to release him."
It's not clear whether Sweden is now pursuing a tougher policy towards Eritrea, only a few months before the next parliamentary election, by denying entry to Eritrean officials.
Though Eritrean Swedes are relatively small and have no major impact on Swedish politics, the case of Dawit Isaak has gained popularity among minorities and progressive Swedes who might consider it in their voting decisions.
The Swedish parties are "sensitive in the upcoming election because they might lose even by a small margin."
Background
The Eritrean government is composed of members of the Peoples Front for Democracy and Justice (PFDJ) that has been ruling Eritrea unelected since the country was liberated in May 24th. 1991. It has been accused of holding Diaspora Eritreans hostage, imposing taxes and fees on them. Several countries, particularly Canada has strictly curtailed the PFDJ's ability to tax Eritrean Canadians. Australia and other countries have also expressed concern over the matter. The PFDJ's activities abroad is carried out by satellite organizations under the leadership of Yemane Gebreab, the presidential adviser.
*Gedab News will attempt to contact Swedish officials for more information on the matter.