Meb Keflezghi: Boston Strong Is Eritrea Strong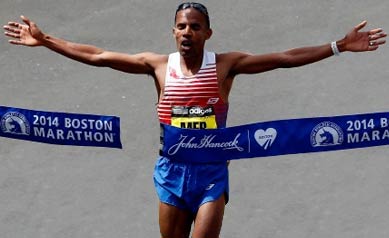 Today Meb Keflezighi won the  prestigious Boston men's Marathon crossing the finish line with an official time of 2:08:37. He is the first American to win the men's Marathon in 37 years.
Meb was born in Asmara, Eritrea and came to the USA when he was 12.
Meb's win was a sweet triumph for the city of Boston after suffering devastating bombings at the finish line at last year's Marathon. The bombing killed three people and injured 267.
This year's marathon attracted 37000 spectators and runners, almost a third more than last year.
Meb claimed the finish line from the bombers of last year. An Eritrean gift to the USA, particularly Boston.
Eritreans all over the world congratulate Meb and salute the people of Boston.
Meb Keflezighi's bios