Saudi, UAE, and Eritrean Internet Trolling Cooperation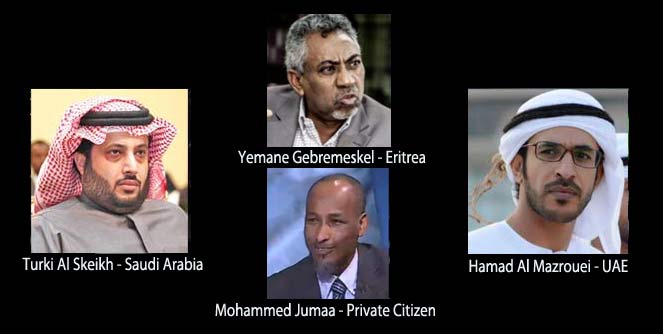 Gedab News learned that the UAE and Saudi Arabia are providing training and facilities to the Eritrean ruling party to enhance its internet war against its opponents.
Both Arab countries maintain a strong troll presence in social media, which they enhanced since November of last year to encircle Qatar.
The UAE intelligence officials have assembled over two hundred trolls under Hamad Al Mazrouei to fight its social media wars using hundreds of Twitter and other social media accounts. A similar number of trolls work for the Saudi intelligence department under the leadership of Turki Al-Sheik.
The extent of UAE's cyber propaganda came to light when a trove of emails belonging to Yousef al-Otaiba, the UAE ambassador to the United States, were released by hackers, where he accused "Al Jazeera as an instrument of regional instability".
As of last February, the UAE and Saudi intelligence departments have been training Eritrean trolls under the leadership of Yemane Gebremeskel,  Eritrea's Minister of Information, to cover the Horn of Africa region where the UAE is aggressively expanding its influence.
According to a prominent Sudanese researcher, the UAE has spread its wings "beyond its size, and is ambitiously engaged in high stake games that will soon backfire."
According to The Washington Post, days before President Donald Trump's inauguration, the UAE helped arrange a meeting between Russians close to President Vladimir Putin and Blackwater founder Erik Prince, a Trump envoy, in the Seychelles islands to create a communication back-channel between Trump and Russia.
During the US House of Representatives testimony, Susan Rice, the then Secretary of State, acknowledged that she ordered the unmasking of names in a transcript of communications intercepted by the US intelligence of a  secret meeting at Trump Towers between top Trump advisors and the crown prince of UAE, whose visit to New York was undisclosed to the State Department.
On March 3, 2018, the New York Times reported that an Arab American adviser to UAE's crown prince Mohammed Bin Zaid "is now a focus in the investigation by Robert S. Muller III," the special counsel investigating Russian meddling in the last American presidential election.
On March 26, 2018, CBS News reported that, "A top fundraiser for President Donald Trump received millions of dollars from a political adviser to the United Arab Emirates last April, just weeks before he began handing out a series of large political donations to U.S. lawmakers considering legislation targeting Qatar, the UAE's chief rival in the Persian Gulf, an Associated Press investigation has found."
On Thursday, March 22, 2018, the Eritrean Ministry of Information issued a statement accusing Mohammed Jumma, an Eritrean exile, now a citizen of the United Kingdom, of starting to "organize political and military activities as well as to train their members." The statement also claimed that funding "is provided by the Embassy of Qatar in Khartoum" While the "training and other logistical functions are managed by the Sudanese Security and Intelligence."
Soon after the statement was published on the Eritrean government website, the topic was amplified on affiliated Eritrean websites and outlets funded by the UAE.
Mohammed Jumaa was targeted since July 2017, when Eritreans in London called for a public meeting where Mohammed Jumaa and a Christian priest Abba Shenoda Haile, were invited to deliver speeches. Mohammed Jumaa's repeated appearance in public with the Christian cleric seems to have caused uneasiness among the Eritrean government officials because the activities with both exiled Eritrean men focused on strengthening the unity among Eritrean Muslims and Christians. A Londoner said, "that unity is vital in effectively resisting the unjust actions of the Eritrean government."
In the social media discussions that ensued, for the first time, an individual known for attacking the Eritrean opposition called Mohammed Jumaa "Eritrea's Qeredawi", after the Egyptian Muslim Brotherhood cleric who resides in Qatar. In the last few days, the pro-government websites have been referring to Mohammed Jumaa as, "Eritrea's Qeredawi".
According to Eritrean opposition members, "that is the first step in implementing the UAE troll training and the Eritrean regime is trying to make Mohammed Jumaa a fall guy in its sectarian instigations."
Meanwhile, a coalition of Eritrean activists, the Global Eritrean Advocacy Network (GEAN), stated it is determined "to counter the UAE & Saudi funded troll campaign. and vowed to challenge the new frontier of information warfare." GEAN leaders informed Gedab News "we will mobilize our online community to enlist their help to foil this multi-million campaign that we cannot match in dollars but by volunteers.
GEAN has already started to train Eritrean activists on how to use their online presence effectively in "the war unleashed on Eritreans by the joint Saudi-UAE intelligence network."
Reference:
Hacked Emails Show Top UAE Diplomat Coordinating with Pro-Israel Think Tank Against Iran
Qatar say their official news agency website was hacked
Saudi Twitter Robots Welcome Trump