Special Rapporteur, Eritreans Address Root Cause of Their Exodus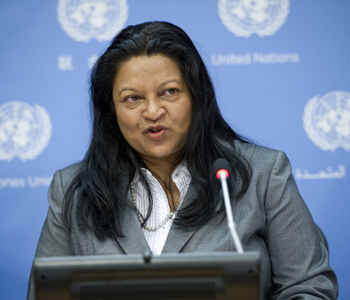 Eritrea is a country riddled with extra-judicial killing; disappearance; incommunicado detention; denial of fundamental human rights and indefinite military conscription which is tearing the very fabric of the society, according to Ms. Sheila B. Keetharuth, the UN Special Rapporteur to Eritrea.
Her report was made on Thursday to the Social, Humanitarian and Cultural Committee (Third Committee), of the UN's 67th General Assembly.
"The current human rights picture [in Eritrea] is desperately bleak," she elaborated, in a follow-up press conference.
The Special Rapporteur received her mandate from the UN's Human Rights Council to monitor the deteriorating human rights situation in Eritrea on November 1 2012 and issued her first report on May 28, 2013.
The Special Rapporteur reported that 2,000 to 3,000 Eritreans are exiled monthly.  In 2012, according to the UNHCR, over 305,000 Eritreans fled their country, an astounding number for a country with a population of 5 million.
Part of the Special Rapporteur's mandate is to listen to individual complaints of Eritrean victims and the website of UN's Office of the High Commissioner for Human Rights hosts a questionnaire in English, Tigrinya and Arabic.
Following her testimony to the UN, the Special Rapporteur was invited to an event hosted by human rights activists including Amnesty International, Human Rights Watch, Human Rights Concern Eritrea and Christian Solidarity Worldwide.

Personal testimonies were given by Meaza Petros (daughter of Petros Solomon and Aster Yohannes who have been detained incommunicado prison since 2001 and 2004 respectively); Mezgeb Mengistu, the mother of Aster Yohannes; Saleh Younis, the uncle of 16-year old Ciham Ali Abdu; and Sengal Woldetensaie, the brother of Haile Woldetensaie (Eritrea's former Foreign Minister and Minister of Trade and Industries).
The Special Rapporteur was particularly moved by the testimony of Meaza Petros, 16, the youngest of Petros and Aster's four children.
Maaza spoke of how she was a product of a love story–two fighters who met in the field and how the country they helped to liberate has orphaned her.  She said she has no recollection of her father: she was too young when he was arrested and she disclosed that her mother, who had left her in the care of her grandmother, Mezgeb Mengistu, was tricked to return to Eritrea and "raise her children" by Isaias Afwerki himself who then, upon her return, had his security officers escort her from the plane in the tarmac to detention.
Maaza continued on to narrate how she and her grandmother trekked to neighboring Sudan on foot and how her siblings, who attempted the Ethiopia route to exile were apprehended and conscripted and eventually reunited with her in the United States.
Through a translator, Ms. Mezgeb Mengistu thanked the audience for listening to their testimony and prayed to God to bring relief to their pain.
Saleh Younis briefly touched on the arrest of his father, 85, his brother, 38 and his niece, 16, as that of the average Eritrean family: this is the fourth arrest for his father–the longest time he served was for offering to mediate the dispute between a group that Maaza's father belonged to (G-15) and that of the Office of the President–that his brother represents the typical case of conscription without end since he was enlisted in the National Service in 1995; and that of his niece represents the case of separate families and the price paid when someone says no to a tyrant.
The rest of Saleh Younis's address focused on what must be done, which begins with one recognition: "There is no government in Eritrea.  Even to call it a "regime" implies a system, a structure and a hierarchy.  In actual fact, Eritrea is the State of Isaias Afwerki… the State is The Man, and The Man is the sum total of his mad contradictions."   The international community, he said, must disengage with the Isaias Afwerki regime–it is futile to do so–and engage with alternatives to his rule.
Saleh Younis's testimony was followed by that of Sengal Woldetensaie, the brother of Haile "Derue" Woldetensaie.
Sengal spoke of the arrest of his brother on September 18, 2001 and that everything that has followed since then is a violation of his human rights and that of his family members: arresting someone for calling to reform a system he is a part of is a violation of his human rights; detaining him incommunicado is a violation of his human rights;  denying him medical care (he suffers from diabetes) is a violation of his human rights; denying him the right to defend himself in a court of law is a violation of his human rights.
The presentation, which was co-chaired by Elizabeth Chyrum (Human Rights Concern Eritrea), was then opened to a Q & A session directed to the panelists and Sheila B. Keetharuth and the mechanism and forums for more Eritreans to provide their testimonies to the world.
Attending the meeting were Eritreans, friends of Eritrea, human rights activists, the German Mission and the UN Political Affairs Officer, Africa Division.
END
–//–
awate.com
inform. inspire. EMBOLDEN.  reconcile.