Russia Chooses Sudan Over Eritrea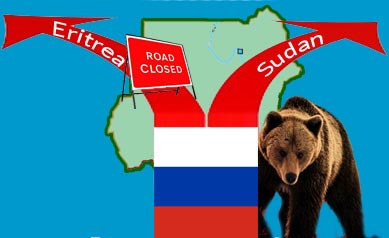 On December 2, 2014, the Russian Foreign Minister Sergei Laprov visited Khartoum and on the next day he met Ali Karti, his Sudanese counterpart. During his visit, Mr. Laprov openly declared that Russia will strengthen its military and security cooperation with Sudan.
The Eritrean government has been enticing Russia to establish a major presence in Eritrea and be involved in the regional affairs of the Horn of Africa, expressing the need for a super power to balance the "USA's unipolar hegemony of the region." At the same time, Sudan has been warming up its relations with Russia.
On December 2, 2014, Sergei Laprov bypassed the standing invitation of the Eritrean government to visit Asmara and arrived in Khartoum where he declared a military and security cooperation with Sudan which is under a UN arms embargo.
In recent years Russia has been planning to reestablish its presence in Horn of Africa which it abandoned after the fall of the Berlin Wall and the disintegration of the Soviet Union. Eritrea has sensed the move and seriously attempted to lure Russia by offering it investments opportunities mainly in the fields of mining and industry.
To show their commitment to Russian friendship, last summer the Eritrean delegation which included the foreign minister Osman Saleh and the presidential adviser Yemane Gabreab ignored diplomatic norms and traveled to occupied Crimea through Russia. The move angered the Ukrainian government which issued a statement, considering the "visit as an unfriendly step, blatant disregard of international law by Eritrean side as well as a flagrant violation of Ukrainian sovereignty and domestic law, of the UN Charter and the UN General Assembly resolution "Territorial integrity of Ukraine" adopted on March 27, 2014, that may have deeply negative effect on further development of Ukrainian – Eritrean relations."
Until a few years ago, Ukraine was Eritrea's major weapons supplier.
It is not known if any Russian official will honor the Eritrean invitation to visit Asmara yet. It is also not clear whether the competition over Russia will damage the relations between Sudan and Eritrea both of whom have varying problems with the international community.
In December 3, several Sudanese armed and political opposition groups have signed an agreement in Addis Ababa to work jointly to overthrow the government of president Hassen Omar AlBashir. According to an Ethiopian government spokesperson, the Sudanese opposition leaders were invited to Addis Ababa by the African Union for peace talks with the Sudanese government and and indicated that the Ethiopian government disavows the meeting .
Meanwhile, Gedab News has learned that two Sudanese opposition officials arrived in Asmara today morning in what our sources described as a secret visit.
Related reading:
Eritrea: Call For Cold War Displeases China
From Moscow With Lies: Yemane Gebreab Interview