Two Eritrean Brigadier Generals, A Financial Manager Dead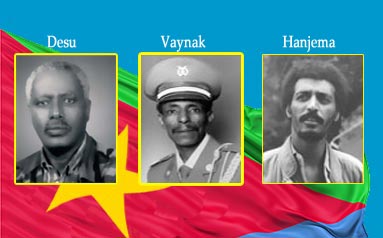 Brigadier General Amanuel Haile (aka "Hanjema"), Brigadier General Mebrahtu Tekleab (aka "Vaynak"),  and Mr. Desu Tesfatsion were killed yesterday in a car accident on the road to Mahmimet.
The three were en route to participate in the commemoration of the 30th anniversary of the Eritrean People Liberation Front's (EPLF) victory over the Ethiopian "Wukaw Command" (wukaw iz) of 1984.
Unconfirmed reports indicate that a fourth passenger, Brigadier General "Halibay", was critically injured and is now being hospitalized.
Hanjema's last appointment was zonal chief of staff and deputy to the late Major General Wuchu in the Dankalia zone.
Hanjema's wife, accompanied by her daughter, has been in the United States for five months: her daughter is gravely ill and requires medical attention. She is now making preparations to return home.
Vaynak, an established member of the EPLF's fedayeen forces in the mid seventies, had participated in many operations in the cities when the Ethiopian Derg regime ruled Eritrea.
(In the Eritrean context,  "fedayeen" was applied to stealth revolutionary units with a special mission to eliminate enemies of the Armed Struggle in urban areas or to liberate combatants imprisoned by the Ethiopian regime.)
In July 1977, Vaynak recruited members of the Ethiopian forces guarding Sembel prison in Asmara. With his team, he planned, organized, and executed a daring military operation that freed around 1200 Eritrean political prisoners from Sembel prison.
Vaynak's official appointment was the inspector general of the army, though his authority was increasingly limited by the regime.
Desu was a close associate of Vaynak in the seventies when he lived in Asmara and was supporting the fedaeyeen by providing logistics such as information, preparing safe houses and transportation. He maintained his close friendship with Vaynak until their death.
In fact, all three were close friends and neighbors and they were often seen together.
Desu Tesfatsion was manager of "09" (Red Sea Trading Corporation, the ruling party's economic arm) until he was charged with "corruption" by the ruling party's "Special Court" and sentenced to 12 years in prison and 100,000 (nakfa) fine, despite the fact that the Auditor General had reviewed the financial statements of "09" and found no wrongdoing that warrants a 12-year prison sentence.
In fact, almost all previous General Managers of "09"–including the late General Ogbe Abraha–have been found guilty of corruption by the regime's Special Court, an extraordinary process that doesn't give the accused due process and is presided over by judges with no legal training but use "common sense" as a legal standard.
The Eritrean regime has dedicated this week as Wukaw Command Anniversary week and has been using the event as a means to galvanize the people to continue to support the policies of the ruling party, PFDJ.
awate.com
inform. inspire. embolden. reconcile.