Eritrea: Chiefs and Ambassadors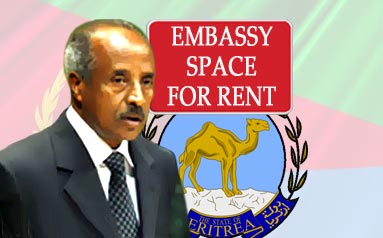 Chiefs of Staff
The Eritrean regime has announced that it has appointed Major General Philipos Woldeyohannes, one of its zone commanders, as Chief of Staff.
He succeeds Major General Gerzgheir "Wuchu" Andemariam, who passed away on March 4th. One of Eritrea's zone commanders, Wuchu had been sick (illness not disclosed) for some time and he had been getting medical treatment for months in Italy.  He was returned to Eritrea when doctors determined that there was nothing further they could do; upon his return, he was promoted to Chief of Staff, an announcement that Eritreans learned about posthumously.
The Chief of Staff position had been vacant since September 18, 2001 when General Ogbe Abraha, along with the "G-15" reformers, was arrested. There has not been an official word on his whereabouts although credible sources have reported that he died in detention.
Nation Union of Eritrean Youth and Students (NUEYS)
As part of the announced "restructuring", the Eritrean regime reshuffled all the executive officers of NUEYS, including its chairman, and directed them to report to their units in the Eritrean Defense Forces.
It is unclear whether NUEYS, one of the ruling party's oldest mass organizations mobilizing youth and students, will continue to exist or how its mission differs from Young People's Front for Democracy and Justice (Y-PFDJ.)
Ambassadors' Accreditation
On December 25, the Eritrean regime announced (via the twitter handle of the president's chief of staff) that 14 ambassadors have been shuffled to new destinations. The names of the 14 were not listed and it takes, on average, six months for the host country to approve an accreditation application. So far, France, Egypt and Sudan have responded with approvals.  In the meantime:
* Fasil Gebresellassie, who had been the Ambassador to Egypt before his transfer to France, has returned to his previous appointment in Egypt.
* Osman Mohammed Omer, who had been an Ambassador to the UAE and had been in recall for years, has been re-appointed to the UAE. The UAE which has not responded to the approval request.
* Mohammed Sheik Abduljalil, who was a consul to Qatar has been promoted to Ambassador to Yemen, but Yemen has not approved him yet.
* Mohammad Saeed Mentai, who was Eritrea's ambassador to Sudan, was appointed to Saudi Arabia, but the Saudi government has not responded yet. If Saudi Arabia does not accredit him, he will not return to Sudan as his previous post is now filled by Suleiman Al Haj. The latter was the deputy of Mustapha Nurhussein, who was arrested shortly after the "Forto" incident–the failed coup attempt by Colonel Sied Ali Hijjay. Unconfirmed news indicate that ambassador Mohammed Omer Mahmoud, the current Eritrean ambassador to Riyadh, was recalled back to Eritrea. He hasn't returned yet. The ambassador had strong relations with Abdella Jabir who allegedly had a hand in the "Forto" incident–he was arrested after the incident and disappeared in the jails of the regime.
Isaias in Qatar
In his last visit to Qatar, Isaias Afwerki openly complained to the Qataris that the rest of the Gulf States are punishing him for his close relations with Qatar and that they should compensate him for that.
Qatar, as Gedab News reported earlier, has been the subject of an isolation campaign headed by Saudi Arabia for its position in Egypt.  It is the only Gulf state that has not shown support to the new Egyptian regime and it is suspected of having been a major booster of the Egyptian Islamists who had very briefly held power after the removal of the Hossni Mubarek regime.
Dr. Ahmed Dehli, an Eritrean official with no clear portfolio, accompanied Isaias to Qatar.  He complained about Saudi Prince Turki Al Faisel, Saudi Arabia's former (until 2001) Director of Intelligence, who now runs the King Faisal Center for Research and Islamic Studies, a think-tank in Riyadh.
Dr. Ahmed Dehli's complaint is related to accusations lodged by Saudi Arabia and Yemen against the Isaias Afwerki regime for being a conduit to the Iran-backed Houthi rebels in Yemen.  Saudi Arabian and Yemen joint forces have been battling the Houthis in North Yemen.