Eritrean Ambassador To Nigeria Arrested In Asmara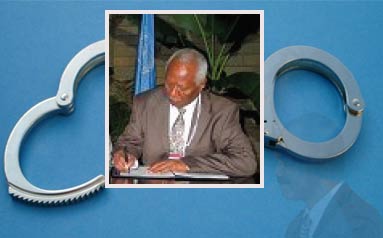 On Tuesday April 29, 2014, plain-clothed security officers arrested Mohammed Ali Omaro, Eritrea's Ambassador to Nigeria, from the streets of Asmara. His whereabouts are still unknown, but security officers searched his house after they arrested him. Omaro is a veteran of Eritrea's armed struggle and a co-founder of EPLF, now PFDJ, Eritrea's ruling (and sole legal) party.
Past behavior of the Eritrean government shows that anyone can be arrested arbitrarily without any acknowledgement by the government or notification of their families.
Generally, they stay in jail until the government decides to release them or they simply disappear never to be heard from again.
Omaro is a famous veteran who joined the Eritrean Liberation Front (ELF) in the early sixties and is considered one of the pioneers of the struggle. In 1965, Omaro became the commander of zone 4, one of the five zonal commands of the time.
Alamain Mohammed Said, now the Secretary of the ruling party, worked in zone 4 as a political commissioner under Omaro, while Isaias Afwerki, the president, was the commissioner for zone five under Welday Kahsay, who later surrendered to the Ethiopian government.
In 1970, Omaro became the field commander of the People's Liberation Forces (PLF), an Osman Saleh Sabbe led faction that split from the ELF.  Three different factions, all named PLF (PLF1, PLF2, PLF3) consolidated to become the Eritrean People's Liberation Front (EPLF) which was presided over by Ramadan Mohammed Nur (from the Sabbe-led faction) or Isaias Afwerki (from the Isaias-led faction.)
After 1977, Isaias successfully distanced Omaro from the politburo after which Omaro assumed roles in different capacities: in the information department, the fighting forces, and in organizational affairs (he was in charge of the organizational affairs in Sudan when he coordinated contacts that resulted in the discussions between the EPLF and the Ethiopian Derg under the auspices of the Carter Centre.)
Along with Ahmed Badouri and Ahmed Quesi, Omaro is credited with establishing the "Voice of the Broad Masses" (Dimtsi Hafash/Sout al Jamaheer) radio program in the Eritrean field. He has also worked as a roving emissary of the EPLF in the Arab countries where he, among other things, established the EPLF office in Saudi Arabia.
After Eritrea's independence in 1991, Isaias has relentlessly worked to banish Omaro from Eritrea by assigning him to ambassadorial positions in Sudan, Cairo, Kenya, and other places until he finally assigned him to Nigeria, a position he held until his arrest on Tuesday.
Omaro's arrest sent shock waves to the Eritrean Diaspora, considering his historical role and age. He is in his seventies and in poor health.
In Eritrea, the regime doesn't need evidence to arrest, nor is there due process. People are arrested for being perceived a risk to Isaias' grip on power, or a potential risk, or simply for falling out of Isaias' favor, or not loyal enough.
In September 2000, the government arrested prominent ministers, military commanders and ambassadors, collectively known as G-15. (G-15 stands for Group of 15, the number of dissidents who signed an open letter demanding reform.) Nothing is known about their fate to date. According to many human rights reports, there are thousands of Eritreans arrested and have been made to disappear since 1991.
Omaro's return to Eritrea was at his own initiative, without Isaias' summon, after a long banishment. Considering the internal struggle among senior party apparatchiks since the Forto incident of January 21st 2013, observers believe that this was a serious threat to Isaias.
Omaro, a well regarded historical figure, resisted Isaias' political assassination attempt, though he was rolled from one location to another just to keep him out of the country. At a time when there is a break from the grip of Isaias and the old guards and veterans have begun to be assertive in appreciating the history of the Eritrean struggle, his arrest is expected to have serious ramifications.
According to an observer who has access to PFDJ party leaders, "Eritrea is suffering from a political vacuum and Omaro's appearance in Asmara is easily perceived by Isaias as a threat that has to be chocked to deny him any opportunity to rally people or to discuss national and governance situation with his comrades."
Reached by phone, the observer stated that "the power struggle among the many factions within the top and middle level army officers and senior members of the regime and the party has been boiling for over a year under the surface."
He further stated, "However, the conflict is particularly exasperated within two major factions of the party both planning to remove Isaias. One group, represented by a few high ranking officers, old guards, and party bosses, is vying to keep the status-quo in response to the Jan. 21 Forto insurrection, and are aiming at carrying out cosmetic changes on the system, while the other group is a continuation of the Forto incident which aimed for an urgent and meaningful democratic transformation of the state and party apparatus."
The Forto insurrection was led by middle rank military officers.