Asmara Bound Passengers Stranded in Cairo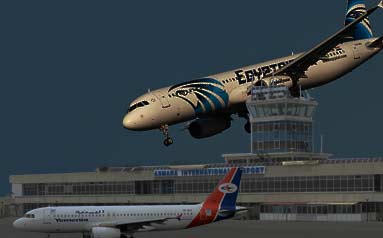 EgyptAir flight MS833, bound for Asmara from Cairo, didn't leave. The airline first announced the delay of the flight but, finally, it seems it was cancelled. The flight was scheduled to depart Cairo yesterday, April 29, 2014 at 11:39 pm.
Passengers who came for the connection flight from different parts of the world were made to disembark hours after they boarded the airplane hoping to get to Asmara airport in the early hours of April 30th.
Airline officials took the passengers to a hotel to spend the night.
Today's EgyptAir flight is also cancelled.
The reason given yesterday to the passengers was that the Asmara airport runway was unable to receive the EgyptAir flight since a Yemenia Airlines aircraft was blocking the runway. They didn't give an explanation as to why the aircraft was blocking the runway.
Searching Yemeni websites and newspapers for a clue to what might have happened to the alleged Yemeni aircraft didn't yield any information.
Similarly, Eritrean government owned websites, television station and newspapers and affiliated websites remained silent on the news.
Attempts to get more information from the Asmara airport didn't bear fruit. A person who replied the telephone refused to give information. Politely he said, "I am not authorized to say anything."
Reached by Gedab News to explain the possible scenario, a person who worked in airports for many years said, "if the Yemenia airplane has a mechanical failure, they could simply tow it away from the runway, and if it crashed, it would have been on the news."