Eritrean Opposition Officials Touring the USA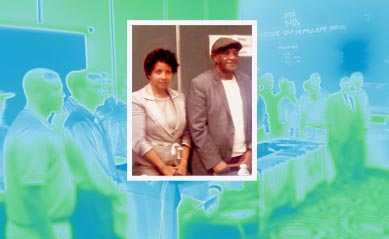 In a meeting described by some attendees "as one of its kind", yesterday, the chairman of the Eritrean National Council for Democratic Change (ENCDC) Mr. Tseggai Yohannes and his deputy Ms. Freweini Habtemariam concluded a meeting in Dallas, Texas.
Since they arrived in San Francisco, California on April 3, 2014, the two officials held public meeting in Oakland, San Diego, Los Angeles, Seattle, Boston, Indiana, Las Vegas, and Dallas. They have plans to hold more meetings in Boston, Washington DC, and Toronto, Canada.
The ENCD was established November 2011 in a congress held in Hawassa, Ethiopia. Over five-hundred Eritreans from all parts of the world attended the founding congress. However, the ENCDC was born a weak institution due to lack of funding, inexperience of most of its members, and ambitions of a few to control the affairs of the council in dubious ways.
In their meetings, Mr. Tseggai and Ms. Freweieni have been giving a thorough analysis of the structural, cultural, legal, political and financial factors that have contributed to the weakness of their organization.
ENCDC's strength and appeal emanates from the fact, the officials contend, that it is the only organization that reflects Eritrea's rich diversity.
The officials said the ENCDC has debarred all civic organizations from direct involvement because it believes the role of civic societies is to influence decision-making through lobbying and exerting pressure not through voting and office-holding.
The youth and ethnic meetings held in the aftermath of the founding of ENCDC were understood by the leaders as a direct attack on their organization. Inadvertently or not, Ethiopia has played a negative role in undermining ENCDC.
The ENCDC leaders stated that Ethiopian officials repeatedly refuse to communicate with the ENCDC though formal channels and ignored request to communicate in writing.
The current visit of the officials to the USA and Canada has pumped some life into the body of the ENCDC which has suffered acute weaknesses mainly due to attacks by its partisan members.
The officials appealed to the public to bear the responsibilities of funding and supporting the ENCDC to enable it do its work.
To learn more about ENCDC, visit its website at: www.encdc.net/