Resolution L23 On Eritrea Adopted Without A Vote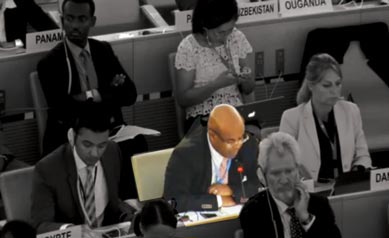 Resolution L23, regarding human rights in Eritrea, which was submitted by Somalia and Djibouti was passed today in Geneva by the Human Rights Council (HRC).  It was passed without a vote, which is the conventional way the body passes resolutions unless a member state of the 47 nations which make up the HRC calls for roll call.
Ambassador Mohammed Siad Douale of Djibouti introduced the resolution that was sponsored by sixteen additional countries.
Speaking on behalf of the European Union (EU), Ambassador Raimonds Jansons of Latvia stated that the EU is "deeply concerned by the grave human rights situation in Eritrea." He added, the EU "fully support this African initiative as well as continuous efforts by our African partners to maintain this issue on the council's agenda."
Ambassador Raimonds further stated that the EU is "disturbed by reports of intimidation and harassment of the members of the commission, including during their stay in Geneva last week." He expressed his hope that the issue will be fully investigated.
Ambassador  Keith M. Harper of the USA said, "We thank our African partners for this important initiative." He also thanked the delegation of Djibouti and  lauded the way it "operated in an open and transparent manner."
 Ambassador Wu Hailong of China said that human rights should be addressed through "full consultation with the country concerned and on the basis of its consent to provide it with technical assistance and capacity building support." He concluded by stating that "China will disassociate itself from the consensus on draft resolution L23."
China's statement implied that human rights violations in Eritrea are caused by "economic and management difficulties" that government faces.
Commenting on China's statement, an Eritrean activist stated, "the notion of justice has nothing to do with the economy or management skills. It's a natural right of any citizen to be governed justly."
Russia holds similar views to China. Ambassador Roman Kashaev of Russia expressed a view that the resolution doesn't help the human rights situation. He suggested interactive dialogue with the Eritrean Government and said, "the best means of doing this is to provide technical assistance and consultative service. In light of this, we are obliged to disassociate ourselves from consensus on this resolution."
The Russian ambassador ignores the fact that the Eritrean government shuns all dialogues, including with Eritrean dissenters.
Ambassador Tesfamichael Gerahtu of Eritrea characterized the resolution as "a continuation of the protracted confrontation against Eritrea, another draft resolution is again tabled by the usual bidders on behalf of the known architects."
He emphasized, "in a sense, the architects and messengers of the draft resolution dream to perpetuate the already failed hostilities aimed to thwart Eritrea's nation building aspirations.."
The Eritrean government believes anything against it is architected by the USA and implemented by Ethiopia. In this case, "the messengers" are Djibouti and Somalia, whose governments have close relations with the Ethiopian government.
Ambassador Tesfamichael aired his grievance regarding a document submitted by Eritrea and appeared on the UN website with a paragraph from a North Korean document and appeared as a plagiarized document.
Though the UN has acknowledged it was an error committed by the secretaries in formatting the documents for publication, Ambassador Tesfamichael said he "does not consider it a technical error."
Many Eritrean activists opposed to the Eritrean government expressed similar views and were frustrated by what has been considered an "error." Commenting about that, an Eritrean activist said, "we have a just cause and such forgeries damage our just struggle." He added, "I don't believe it was an innocent forgery and I hope the UN investigates it."
Ambassador Tesfamichael also expressed the usual bravado, "neither will Eritrea surrender its sovereign rights nor will it abandon its independent political stands, under any name, including under the pretence of human rights." In what seemed to be an assurance, he added, "Eritrea is, however, earnestly redoubling its development efforts to achieve a qualitative leap in the next three to four years."
However, Eritrea stakeholders immediately reject that promise; the Eritrean president has repeatedly made similar, three and four year promises, in his yearly independence day speeches for more than two-decades.
Update and related links:
As Gedab News expected, the Human Rights Council draft resolution to extend the mandate of the Special Rapporteur as well as the mandate of the Commission of Inquiry on Eritrea for one year, is now adopted as Resolution L23.