Leaked Memo: Eritrea's Plan To Neutralize Susan Rice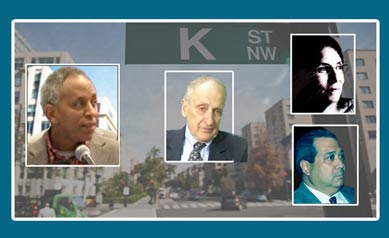 The following memo, written on January 23, 2015 by Mr. Berhane Gebrehiwot, Eritrean Chargé d'affaires to the United States and addressed to the Ministry of Foreign Affairs, was leaked to asmarino.com, a US-based Eritrean website, which published it on July 2, 2015. The gist of the memo is a report of his meeting with Ambassador Herman Cohen and the two's strategy on how to get the United States to lift sanctions against Eritrea and normalize its relations.  awate.com is translating it to English. The original, written in Tigrignya, can be accessed here.
Embassy of the State of Eritrea
United States of America
23 January 2015
N/n: EOE-US-00415
To:          Ministry of Foreign Affairs, Asmara
RE:          Meeting with Herman Cohen
On Wednesday 21 January 2015, to follow up on prior understanding I had with him, I met at my office with Ambassador Herman Cohen, formerly Assistant Secretary of State for African Affairs and now President and CEO at Cohen and Woods International. The purpose was to focus and exchange ideas on issues we had discussed in prior occasions.
It will be recalled that the understanding we had reached in the past [was the following]: that the subject he had initiated of "resolving the tension between Eritrea and Ethiopia", and that it cannot be addressed via meandering discussions with Weyane [Ethiopian government], is a conclusion even he has come to understand; thus, his efforts should focus on lifting the sanctions [on Eritrea] and improving relations between Eritrea and America; that he should write another [editorial] piece as he had done before [Herman Cohen wrote "Time to Bring Eritrea In from the Cold in December 2013]; to reach out to the US Department of State and find out what their position is; and, whenever he gets an opportunity, to positively influence the anti-Eritrea stand [of the United States.]
On my part, I thanked him for his concern and efforts, and updated him on new developments since our last meeting: multi-pronged efforts we are making to address challenges; how we have accelerated and bolstered Eritrea's diplomatic efforts and cooperation near and far. Then, I referred him to our prior understanding: has he met with the State Department and what are the results; his research on the issue of lifting sanctions; his writings that will focus on these issues.
Ambassador Cohen informed me that he had spent a month focusing his efforts on lifting sanctions and improving relations between Eritrea and America. Related to this, the latest reports submitted by the [Somalia Eritrea]Monitoring Group to the Security Council indicate that Eritrea is blameless on issues it had been accused of [helping Al Shabab]; that, on the basis of this report, he has surveyed the wishes of many members of the Security Council on lifting sanctions; that he has decided that the decisive role on lifting of sanctions is going to be the United States of America and it should play a positive role by at least abstaining in the vote; and that, to research this possibility, he had reached out to the State Department and met with several officials of the Bureau of African Affairs. His meetings were with Ambassador Donald Teitelbaum, Principal Deputy Assistant Secretary of State for African Affairs as well as Nancy Cohen, [Acting] Director for East African Affairs. In his meetings, he brought up the fact that, in consideration of the prevailing conditions in East Africa, it is in America's interest to improve its relations with Eritrea. Relative to the environment in its region, [Eritrea] is stable and, from the perspective of America's security, it is an article of faith that it can play a decisive role in the struggle against terrorism. To normalize the hitherto complicated relationship, a gesture of goodwill would be lifting the sanctions because even America's allies who have been forced to play a negative role believe that it should be [lifted] and that America should engage Eritrea. Towards this end, his discussions focused on researching the possibility of the United States, at the very least, abstaining [the next time the issue comes up for a vote.]
From the perspective of Ambassador Donald Teielbaum—whose views he expresses as candid—and his assistant Nancy Cohen: [he quotes them as saying] from the perspective of the State Department, his assessment on the issue of normalizing relationships, his [Teitelbaum's] views are not that different [from Cohen]; that he understands lifting sanctions would play a big and decisive role in re-engagement. However, because the White House's stand is that "Eritrea is not yet ready to improve our relations", it remains firm in its stand and its directive of using its veto to defeat any effort to lift the sanctions remains in place.
Continuing on, Ambassador Cohen states that when he asked Ambassador Donald Teitelbaum and Nancy Cohen what can then be done to restore normality to the relationship, they said that now, more than ever, restoring relationship is in America's interest but to overcome the obstacles presented by the White House, if Eritrea—"similar to Cuba's"—were to show a few gestures, it would help them change the viewpoint of the White House. Of those helpful gestures, they listed "freeing the two [Eritrean] employees of the American embassy; elevating diplomatic relations to the ambassadorship level" as strengthening the hand of the State Department over that of the National Security Adviser (Susan Rice) and that this is the message he wants to transmit to the Government of Eritrea.
On the basis of his meetings, Ambassador Cohen has reached a conclusion: with respect to lifting sanctions and normalizing relationship, there is visible difference between the State Department and the White House. Interrupting him, I asked him how prevalent is the State Department's viewpoint [within the American government] on lifting sanctions and normalizing relationship? He replied: geopolitically, given the worrying and deteriorating developments in Yemen, Ethiopia, Sudan, Somalia, there is clear understanding that it is in America's interest to restore relationship with Eritrea and that this view is shared by the Department of Defense (Pentagon.) [According to Herman Cohen] the views expressed by the White House are those of Susan Rice and her followers and, although she considers herself an Africa expert, her approach is domination and suppression and her decision-making is based on whom she likes and hates. Because she is driven by personal animus, she is not one that is fit for diplomacy.
Finally, with respect to his research on an issue we had previously reached a common understanding as impractical and of low expectations and thus of low priority, on the issue of mediating between Eritrea and Ethiopia: based on information from those whom he described as his sources in Addis Abeba, there are members of EPRDF [Ethiopian governing coalition] who want to bring it [demarcation] to a close but a few but influential officials create hurdles by saying that "the government of Eritrea is going to fall on its own and there is no reason for us to address issues of troop withdrawal and border demarcation."
On my side, I presented the following ideas:
First of all, he needs to follow up on a promise he had made: to write an article, to distribute it and, if he can, to gear up a campaign around the issue of lifting sanctions and normalizing relations between Eritrea and America, as this will help awaken consciousness. This will create pressure on those who are for continuing and strengthening the sanctions; and it will empower those who want sanctions lifted and relations normalized. Moreover, because this might create pressure on the prejudiced views of the White House, I asked him to accelerate it. (He, too, agrees with this. I will try to follow up as much as I can.)
Moreover, to help overcome obstacles, to help dissemination of truthful information and raise awareness—not just to improve Eritrea's relations but to clarify America's national interest—it's important that a symposium be organized that reaches out to various interested reporters, government officials, members of congress and research centers. Although the organization he leads, Cohen & Woods International, is a lobby firm and can't do this, I asked him if he could co-operate, use his influence to research if there are think tanks and institutions of higher learning willing to do it.
That I will relay the messages he wanted to relay to the Government, ie, the outcome of his meeting with officials of East Africa [within State Department] and, in addition to encouraging him to continue, that I, if I get the opportunity and if they are willing, will try to meet with them.
As for the suggestions he made that Eritrea take some goodwill gestures, Eritrea has been asked to do more than what it is capable of. For the sake of helping Ethiopia, a big wrong was done to Eritrea, and still is, over the last 17 years: one that endangered its existence and security. So, instead of adding a big pressure [on Eritrea] and correcting the fundamental wrong, focusing on small consequences is not only unhelpful, it creates an environment that confuses the main issue. Thus, I explained, it is best to focus on causes and not effects.
In the end, we came to a mutual understanding that we should continue our meetings on a regular basis, exchange ideas and strengthen our efforts.   On the occasion that we are making big preparations—one aimed at attracting foreigners– to celebrate the  35th anniversary of NUEW [National Union of Eritrean Women] on March 7, 2015, where we will hold a symposium on the role of women in [armed] struggle and development, I invited him and his wife to attend. He accepted the invitation.
Victory to the Masses!!
Berhane Gebrehiwot
Chargé d'affaires