How Eritrea Hopes To Get USA To Lift Sanctions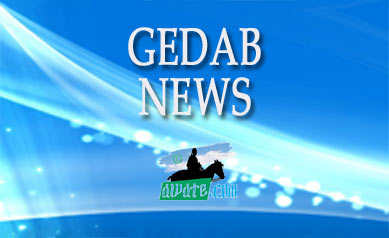 Eritrea sees a path to lifting sanctions and normalizing relationship with the United States by creating a wedge between the State Department and the White House, according to leaked memo from the Eritrean Chargé d'affaires to the United States.
Dated January 23rd of this year, the four-page memo was published by US-based Eritrean website, asmarino.com, this week.
In the memo addressed to Eritrea's foreign ministry, Mr. Berhane Gebrehiwot summarizes his January 21 meeting with Ambassador Herman Cohen, former Assistant Secretary of State for African Affairs and now a lobbyist for Cohen and Woods International.
Ambassador Cohen reports of his meetings with Ambassador Donald Teitelbaum, Principal Deputy Assistant Secretary of State for African Affairs as well as Ms. Nancy Cohen, Acting Director for East African Affairs who see the importance of normalizing relationship with Eritrea but expect the latter to take gestures "similar to Cuba."
The gestures include freeing two Eritrean employees of the US embassy, Mr. Ali Alamin and Mr. Kiflom Gebremichael, who were arrested in September 2001 and have never been charged or brought to court, and elevating diplomatic relations to the ambassadorship level.
The White House policy is driven by "Susan Rice and her followers", reports Ambassador Herman Cohen.  Speaking of Ambassador Susan Rice, President Barack Obama's National Security Advisor, Mr. Cohen says, "Although she considers herself an Africa expert, her approach is domination and suppression and her decision-making is based on whom she likes and hates."
"Because she is driven by personal animus, she is not one that is fit for diplomacy."
The strategy of emboldening those who support lifting sanctions and normalizing relations with Eritrea and pressuring those who are opposed includes, as Mr. Berhane Gebrehiwot reminded, for Ambassador Cohen to keep his promise to "write an article, to distribute it and, if he can, to gear up a campaign around the issue of lifting sanctions and normalizing relations between Eritrea and America, as this will help awaken consciousness."
Part of "awakening the consciousness" of Americans, according to Mr. Berhane Gebrehiwot, is for Ambassador Cohen to "use his influence" to help organize a symposium where "various interested reporters, government officials, members of congress and research centers" would discuss Eritrea's importance to the United States.
With respect to direct dialogue with Ethiopia, something proposed by Ambassador Cohen in his December 2013 article "Time to Bring Eritrea In From the Cold", Mr. Cohen reports of his conversation with his contacts in Ethiopia and that although "there are EPRDF [Ethiopian governing coalition] members who want to bring it [demarcation] to a close… a few but influential officials create hurdles by saying that 'the government of Eritrea is going to fall on its own and there is no reason for us to address issues of troop withdrawal and border demarcation.' "
Herman Cohen was President George Herbert Walker Bush's Assistant Secretary of State for African Affairs in 1991 and he was part of the "London talks" where President Isaias Afwerki and the late Ethiopian Prime Minister Meles Zenawi discussed post-Mengistu Hailemariam Ethiopia and Eritrea.
It is unclear from the memo whether Mr. Cohen is engaged as a paid lobbyist or volunteering his services as a "friend of Eritrea," or how long he has been meeting with the Eritrean charge d'affairs.
The United States has explicit rules and timelines on having lobbyist registered when representing foreign governments.
Eritrea was sanctioned by the United Nations in 2009 (Resolution 1907) for undermining peace and security in Somalia; and its refusal to acknowledge and deal with its border conflict in Djibouti. The resolution received 13 votes in favor, 1 against (Libya) and 1 abstention (China.)
The sanctions were toughened in 2011 (Resolution 2023) due to Eritrea's refusal to comply with the UN resolutions, and new terms were imposed: on soliciting the 2% tax from Diaspora Eritreans, and transparency in accounting for mining revenues.   The resolution received 13 votes and two abstentions (Russia and China.)  President Isaias Afwerki, who was supposed to address the UN either in person or via video link-up, refused to do so.
In November 2014, the Monitoring Group on Somalia and Eritrea (SEMG) reported that Eritrea has significantly reduced its role in Somalia and there is no evidence that it is supporting Al-Shabab.
The Government of Eritrea has been using the last SEMG report to argue that the primary cause for the sanctions—Eritrea's alleged destructive role in Somalia—has been "disproven" and there is no longer a reason to maintain the sanctions.
Meanwhile, Qatar, which is "mediating" the Eritrea border conflict with Djibouti since June 2010—longer than the Eritrea-Ethiopia arbitration—has had nothing to show for its mediation.  Djibouti is still complaining that Eritrea will not disclose the whereabouts of its prisoners of war. While Eritrea denies there are Djibouti prisoners of war, the same body that exonerated Eritrea about Somalia, SEMG, interviewed Djibouti prisoners of war who escaped from Eritrea to Sudan.
The armed Ethiopian opposition groups remain in Eritrea, in violation of UN resolutions, and pro-government Eritrean websites often celebrate their alleged military victories.
Moreover, the SEMG report that is supposed to exonerate Eritrea concluded that Eritrea is importing weapons through East Sudan and is arming South Sudanese rebels and continues to be in violation of UN resolution 1907.
The Government of Eritrea also does not appear to recognize resolution 2023, as it is still debating the merits of resolution 1907.
Just two days ago, Djibouti and Somalia were co-sponsors of Human Right Council's resolution L-23 extending and expanding the mandate of the Commission of Inquiry and the Special Rapporteur, and calling on Eritrea to implement their recommendations and to stop its "systematic, widespread and gross human rights violations."
awate.com
inform. inspire. embolden. reconcile.
Related Reading
UN Security Council Resolution 1907 (2009)
UN Security Council Resolution 2023 (2011)
Monitoring Group on Somalia and Eritrea Report (2014)
Report of the Special Rapporteur on Eritrea (A/HRC/29/41) and Report of Commission of Inquiry on Eritrea (A/HRC/29/42) (2015)
U S Department of State Country Report on Eritrea Year 2014 (released July 2015)