National Council Enters Its Fourth Day of Deliberations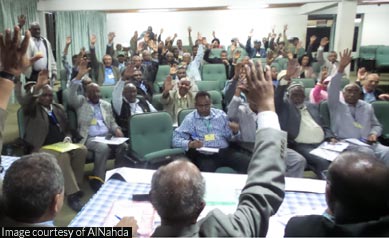 The National Council (NC) of the Eritrean National Council for Democratic Change (ENCDC) has been convening in the city of Bishoftu in the Oromia State of Ethiopia, since Monday, December 15, 2014.
The emergency meeting of the NC was called to address procedural impasse that made the ENCDC inactive since its formation in Hawassa three years ago.
The NC elected a secretariat to administer meeting under the leadership of Haj Abdenur, member of leadership of the Eritrean People's Movement.
Today, Wednesday, the third day of the meeting, the council leadership and the executive committee submitted their resignation to pave the way for the election of a care-taker committee to oversee the institution's activities until second congress planned for early summer of 2015.
On Thursday, the meeting is expected to discuss the status of Preparatory committee that was setup earlier this year. It is also expected to either endorse the preparatory committee or make some changes in its membership.
If the NC sticks to schedule, the meeting is expected to be adjourned by Friday night.