Sudan: Al Bashir Wins Election As Expected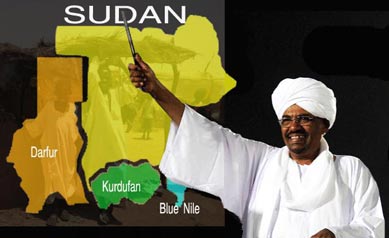 On Monday, the election commission of Sudan announced the victory of Sudanese incumbent present Hassen Omer AlBashir and his National Congress Party (NCP).
The victory of AlBashir was expected since  election started on April 13.
In a press conference, Mukhtar Al-Assam, the chief of the election commission declared that AlBashir won 94.5% of the total cast ballots, which translates to 5 million votes for AlBashir out  of the total 5.5 million votes. AlBashir's NCP now controls 76% of the 426 seat parliament.
Fadil Shuaib of the Federal Truth Party came next to AlBashir winning 1.4% of the votes.
According to the election commission, only 46% of the 13 million voters cast their votes. The Sudanese election was boycotted by most opposition parties.
African Union observers estimated the turnout around 33%.
In Khartoum, the ruling party's headquarters witnessed a festive mood with AlBashir's supporters partying and waving national flags.
According to Gedab News reporter, "only about two thousand people partied while 54%, or 7 million voters, boycotted the election."
In his victory speech, Sudan mocked his Diaspora opposition by thanking them for the gift they send him: 200 vehicles with their full military gear. His government claimed it has seized the vehicles in its battles with Sudanese rebels.
In a joint statement issued by the USA, UK and Norway, the Troika described the Sudanese election as illegitimate.
Several regions of Sudan are marred by wars and the 71-year-old Al Bashir is not expected to change his approach in trying to resolve the national problems militarily.
The government has been battling rebels in Darfur for the last 12 years and fighting more insurgencies in the Blue Nile state and in Kurdufan since 2011.
There is also a brewing political crisis in Eastern Sudan over power sharing. Eastern Sudan's Kassala and Port Sudan regions share 605 kilometers long border with Eritrea.
Nearly half the Sudanese population of 37 million live in poverty while unemployment is rampant in the cities.
Related reading:
Omer AlBashir Wins "The Sudanese Election" (April 16, 2015)