Church Services Conducted For Gunned-Down Youth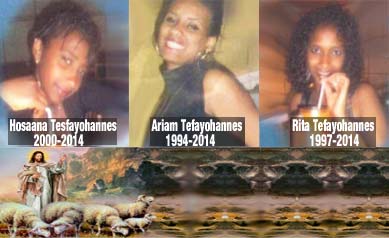 On December 28th, at a Catholic Church in Toronto, Canada, a memorial service was held for the three young sisters who were, along with ten other Eritrean youth, gunned down to death as they attempted to leave the country.
Also participating in the ceremony was the brother of one of the thirteen dead youth, name not disclosed, who came from London, Ontario, Canada–and the memorial service ended up commemorating the four youth.
In a capacity-filled and emotional service, the congregation also prayed for the 17 Eritreans who died as they attempted to leave the Shagarab refugee camp in Sudan last week.
The church, which is normally attended by 300 faithful and has a capacity of 700-800 was overflowing past the halls to the corridors with attendants estimated at over a thousand.
Eritreans who attended St. Michaels and Medhane Alem Orthodox churches flocked to the Catholic Church to show solidarity and pay condolences to the mother of the three young girls who perished.
People lined up for an hour and half to greet the mother and give her condolences on her heartbreaking loss.
Many of the attendants were youth who had made the long and arduous journey from Eritrea and, perhaps recalling their own journey, became emotional during the service.
Pictures of the three girls, Ariam Tesfyohannes (1994-2014), Rita Tesfayohannes (1997-2014) and Hosanna Tesfayohannes (2000-2014), along with Biblical verse (John: 11;25) were distributed to the faithful.
Father Vittorio, formerly a lecturer at Asmara University, gave the sermon noting that there has never been this kind of cruelty and prayed that God forgive the perpetrators.
Another priest, renowned for his fiery opposition to the Eritrean regime, did not speak and spent most of the sermon standing and staring, in visible wrath, at the pictures of the three young girls.
Church attendants sang a hymn in Tigrinya entitled "God Leads His children*", whose chorus was "some with fire, some with storm." [refer to copy of hymn.]
The three sisters, along with 13 others, were shot at when they were being smuggled out of the country in early September 2014, via the Ghindae-Karora way. Thirteen, including the three sisters as well as two best friends, Henok Mengestab, 17, and Samuel Yonas, 18, were instantly killed. Three survived, were treated, and released in late December.
The government is suspected of being behind the killings because it first denied any knowledge of the disappearance of the three sisters, then told the father, Tesfayohannes, that it has them in detention and he would need to pay the mandatory fine to have them released, then told him, and the parents of the other 13 killed, that it has the remains of their children and they can come to gather them.
Todate, the Eritrean State media has not mentioned them in any of its news reports nor has it given it condolences to the grieving families.
* Tigrinya hymn: "God Leads His Children"