Isaias' Trade Off: Military Drill As Crops Perish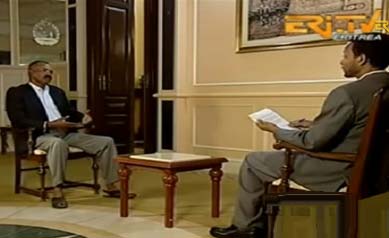 On the occasion of the year end, yesterday Isaias Afwerki gave a two-hour interview to the government owned Eri-TV.
As usual, he blamed conspirators for wanting to hinder his government's endeavor in the development of the country. He said, "…for 15 years we didn't face a military attack only, but also economic, diplomatic, political and defamation, to prevent us from implementing development plans."
Answering a question regarding the youth who are leaving the country, Isaias said it's part of the conspiracy against Eritrea, and the youth "will regret it… a lot have made a mistake," of leaving. One of the solutions he envisioned was that his government's "media should be revamped." He seemed unhappy with the quality of propaganda that his Ministry of Information is executing.
Replying to a question concerning the reward [pay] for the youth who are working in the government's projects, he said, "It's impossible to speak of promises and rewards." Yet, he promised a collective reward for the entire nation when "our current development campaigns" will yield rewards.
The Eritrean government is accused of using slave labor extracted from forcefully conscripted youth who are deployed in different government-owned projects for an indefinite period of time.
Isaias also cited the struggle era sacrifices of many who "spent their time and life" for the independence of Eritrea, and noted that, "people should not look for rewards." He asked in surprise, "who has the right to decide what to give [to anyone] from the government coffers?"
Though the question was obviously about salary for service rendered, Isaias totally ignored the concept of salary and stated that the work of the youth should be a continuation of the struggle era sacrifices, reminding his listeners that, "rewards cannot be attained by being hasty and in a hurry, it is attained as a result of work, and now is not the time for that [rewards]."
It is difficult to know if he was dismissing the fact that the Eritrean youth have been working for almost two decades against their will, without pay, or he had abolished the notion of salary for service rendered.
However, he had a message for the youth who are escaping from Eritrea to other countries: "If they have plans to live under welfare, we will meet after a limited journey… if they are regretful, good… but as for those who are tormenting over rewards, time will reconcile us."
Replying about the lost productivity of Eritreans due to the conscription of the entire population, Isaias said, "those in the front-lines are not cursed" indicating that arming everybody was a sort of fairness and justice where everybody is made to serve in the military equally.
Though Eritrea enjoyed good rains in 2014, the farmers were unable to reap meaningful crops. The farmers were called In the middle of the harvesting month for training and they were forced to go leaving behind heaps of bundled stalks that they gathered in the middle of the fields to dry. A lot of crops perished, damaged by rain before they were collected and properly stored.
Isaias had clarity on that. He said, "since training is a priority, harvesting can wait, we can afford weeks or months to do that… and one has to make a decision." And as for the training, "regardless of whatever happens to the harvest, the government opted to have farmers lose their crops instead of missing scheduled training." He stated, "we made a trade off."
Concerning the constitution that he promised his supporters six months ago, he said that he has assembled people to prepare the constitution, and that the "old constitution, though we didn't declare it, is dead."
More information about the constitution he is planning to give Eritreans, "will come in due time." Abstaining from giving more details, he stressed that, "we do not want to be goaded into a gathering of bickering" by discussing details of the constitution. He reasoned, "we did not ask for permission, or cooperation, from anyone," Meaning that he owes no one an explanation or information about the constitution. Not even his followers and supporters.
But he generously assured his followers that "the constitution will be prepared [because] the time for drafting or planning a transitional system has arrived."
Formally, Isaias has been presiding over a "transitional government", of one type or another, since 1991.