Archdiocese of the Eritrean Orthodox Tewahdo Church Appeals to the UN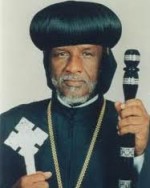 The Archdiocese of the Eritrean Orthodox Tewahdo Church in Diaspora sent a letter of appeal on May 24 to UN Secretary-General Ban Ki-moon calling for "the immediate release of His Holiness Patriarch Antonios from prison" and that he be provided "with the necessary medical care."
The news was first reported by www.tewahdo.org, a US-based website.
Enthroned as Eritrea's third patriarch after his election in 2004, Patriarch ("Abune") Antonios, 86, who has been under house arrest since 2005, was dethroned by Eritrea's ruling party in 2007 following a 2-year campaign that severely limited and encroached on his authority.
In what appears to be a rare show of unity, the letter carried twenty-nine signatures from all parts of the world.
In an unprecedented  interference in the internal affairs of the Eritrean Orthodox Tewahdo Church and in violation of church norms, the government imposed a new Patriarch, Abune Dioskoros, despite failing to receive the approval of Pope Shenouda of the Coptic Orthodox Church of Alexandria.
The letter sent by the priests from the Archdioceses of North America and Europe to the UN Secretary General and other entities also called for "the release of those imprisoned because of their religious faith."
According to a recent report by Amnesty International, there are 10,000 prisoners in Eritrea.
The signatories appealed for help on behalf of the thousands of refugees "who are fleeing the scourge in their homeland are falling prey to the worst form of human trafficking, degradation and modern day slavery."
//END
awate.com
inform. inspire. embolden. reconcile.