Gunmen Beat Up Eritrean Ambassador In Libya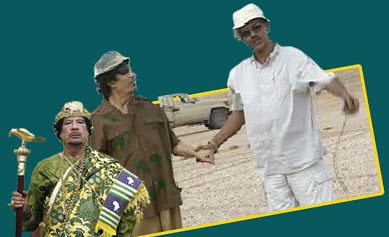 Reports indicated that last Friday unknown gunmen barged into the Eritrean embassy in Tripoli, Libya and attacked Ambassador Abdellah Musa and his staff, they left them bleeding. The gunmen also took documents and different items, including the ambassadors' personal effects, from the embassy premises.
The news was reported by aljabha.net and adoulis.net and other sources.
Gedab news contacted the Eritrean Embassy for further details, but the calls were not answered.
Daniel, an Eritrean refugee who has been stranded in Libya since 2010 told Gedab News that, "the smugglers are fighting over money collected by refugees who were smuggled to Italy." He said some officers affiliated with the embassy run a network of individuals who manage the smuggling business."
On 2010, Daniel was rescued only hours after the boat he was on capsized a few miles off the Libyan shores. He was returned to Libya, where he was jailed for a year and released after his relatives bribed some officers to secure his freedom.
After Egypt and Israel effectively curbed the smuggling route through the Sinai Peninsula, smugglers launched the Libyan route that smuggled mainly Eritrean refugees to Europe through the Mediterranean Sea. Hundreds have perished at sea between Libya and Italy.
Isaias Afwerki and the late Muamar Ghaddafi had special relations. Before the fall of Gaddafi's regime in October 2011, the Eritrean embassy influenced the extradition of refugees to Eritrea where they were sent to imprisonment.
In April 2015, the Libyan franchise of ISIS slaughtered 28 people believed to be Eritreans and Ethiopian, publicly and released the gory event on youtube and other social media outlets.
In the beginning of July, reports indicated that the Libyan, "Fight Against Illegal Immigration Bureau" arrested dozens of Eritreans in Msirata, Libya, which is a self-administered city that refused to join any of the warring Libyan factions and is too powerful to be subdued them.
The multi-million-dollar smuggling business is controlled by government officials from the Sudan and Eritrea in collaboration with Bedouin tribesmen in the region. Several Eritreans run the operations from many countries, including the Middle East, Europe and the North America.
An observer said, "Smuggling is a very lucrative business and the embassy has a considerable share in it." The attack on the Eritrean ambassador and his staff is suspected to be a warning or a revenge related to matters of human smuggling, revenue, or market share.