A Conversation With MP Arhe Hamednaca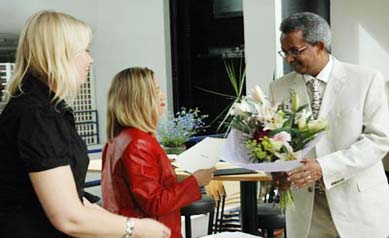 The population of Yiker, a small village close to Elaberet, another small village, could not have expected the news that came out of Sweden last week.
Good luck finding Elaberet in the map let alone Yiker. But against all odds, that small village, tucked in the hills behind Elaberet, is now part of the world with a bang. Its son Arhe Hamednaca is a parliamentarian, half a world away in Sweden.
Since Elaberet can claim Yiker, and Yiker is in Senhit, the Keren region claims Arhe together with the entire Eritrean population that is proud of him. Arhe is the child who left his village to join the ranks of the Eritrean Liberation Front before he could grow a beard. Not a child soldier, as some culturally confused cliché-snatchers would claim, but a born fighter who would not watch injustice befall his people. Similar to all children in his native country, children who would learn to defend their people, their land and their dignity the moment they learn to utter the word freedom, children born in a culture that cries "Give me freedom or give me death," Arhe simply followed suit. He would never betray his village tradition; he would cry "Awalid" and aspire to free his people.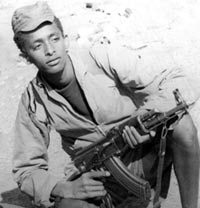 Arhe had just finished elementary school in an Italian school at Elaberet when he opted for the life of struggle, a struggle where he literally grew up, a trait he kept even when, in 1984, destiny led him to Sweden as a refugee.
Barley four years after he arrived in Sweden, Arhe joined the Swedish Social Democratic Party, and continued to carry on the struggle for the betterment of people, a struggle that fate decided he had to wage thousands of miles away from where he started it first.
I talked to Arhe a couple of times over the phone last week. As usual, I do not remember in what language the interview was carried. Four languages were involved: Tigre, Arabic, Tigrgna and Blin. Most of my modest Blin vocabulary has long evaporated with time and distance; but wrapped in a mish-mash of several languages, it was no sweat understanding Arhe's phrases. He will even insert what I think were Swedish words and phrases, then I would pre-empt him into Tigre or Arabic and he would unconsciously switch to one.
I asked him: "How does it feel to be a Meri?" A government?
He laughed at the joke: when we were growing up, any uniformed or plainclothes official was known as Meri, government. Now, literally, any armed person is a government in Eritrea—they don't need a parliament to legislate, they whimsically legislate on the go.
"It gives me a chance to offer more," he said.
"You don't sound excited; Senhit would be celebrating, Eritreans of good will would be ecstatic about the news!"
"I am, but it is more responsibility, a heavy responsibility; and I will never let down my constituency and my adopted country," Arhe said.
"Do you wish this was in Eritrea, a culmination of your struggle?" I asked
"I hope some day my ancestral home Eritrea would have a democratic system like Sweden and enjoy human rights that we Swedish enjoy; I wish Eritrea had a fraction of the prosperity of Sweden. But my election is a testimony to how small the world has become. It is proof that we share the globe together and we are more connected than we think, more than any time before in history. But someday Eritreans will have democracy and a government they own and that respects and defends them, not one that abuses and oppresses them."
For years, Arhe has been actively engaged in "various political assignments and is a member of several associations dealing in issues of integration, equality, international solidarity and education."
His favorite project is Elektra, where he was one of the project leaders since 2002. "Elektra works against honor-related violence." It combats non-European values that violate human rights. Arhe has also founded an organization called "Sharaf  Heroes," (Arabic For Honor), an organization that works to change the mentality of men who commit such crimes, through education. Sharaf Heroes related work has taken Arhe to Iraq, Palestine, Egypt and various countries in Europe where he spread the message through conferences.
Arhe's political involvement had earned him the trust of the Minister Of Integration And Equality with whom he worked as a political advisor in 2004. Two years later, Arhe was elected as a municipal council in the city of Stockholm where he worked until recently.
In 2009, Arhe was nominated by the Social Democratic Party to run for the Swedish parliamentary election. He came fourth among 43 candidates. The boy from Yiker, a village now suffering under the yoke of oppression in Eritrea, is today a parliamentarian in Democratic Sweden, representing the Social Democratic Party.
A serious family man, Arhe would not stop repeating how indebted he is to his family. "If not for the support of my wife and children…" he would say.
"What about Eritrean Swedes, did they give you enough support?" I asked
"Indeed, Eritreans who are committed to democracy and respect of human rights have given me their full support, but…"
"But what?
"I wish all Eritrean Swedes would contemplate about the democracy and human rights they enjoy in Sweden and wish the same for their people back in Eritrea."
That is also my wish, MP Arhe!
If Arhe, a first generation citizen of Sweden, can do it, there must be huge successes in store for the second generation Eritreans everywhere.
My best wishes to Arhe and my gratitude to the people of Sweden for always remaining the torch bearers of democracy and human rights.