Interview With Eritrea's "Freedom Friday" Organizers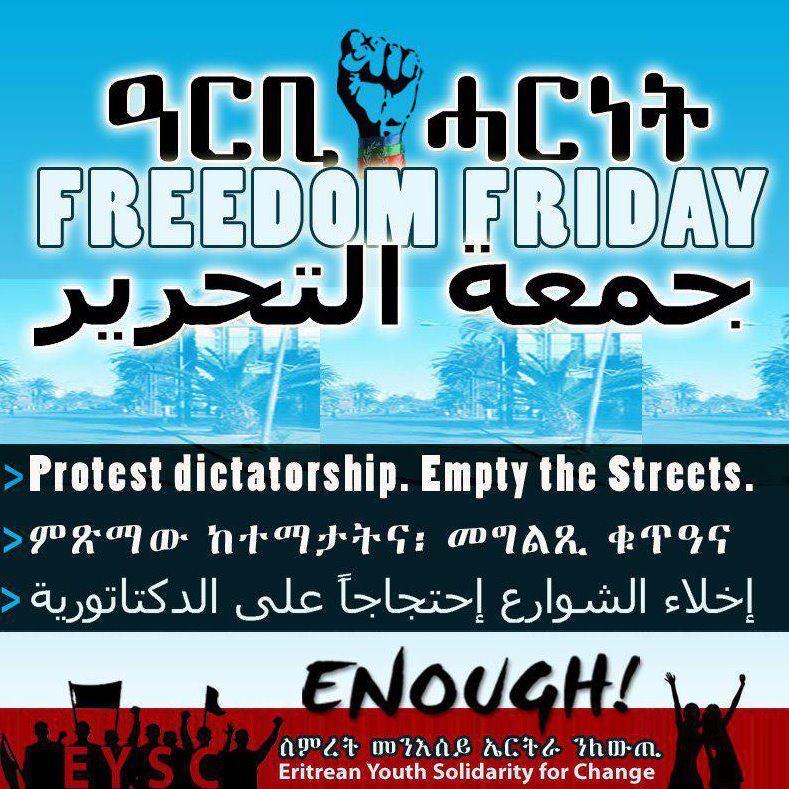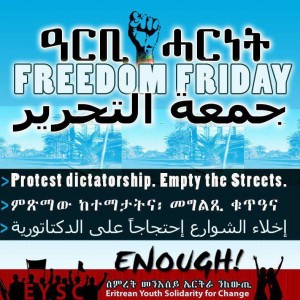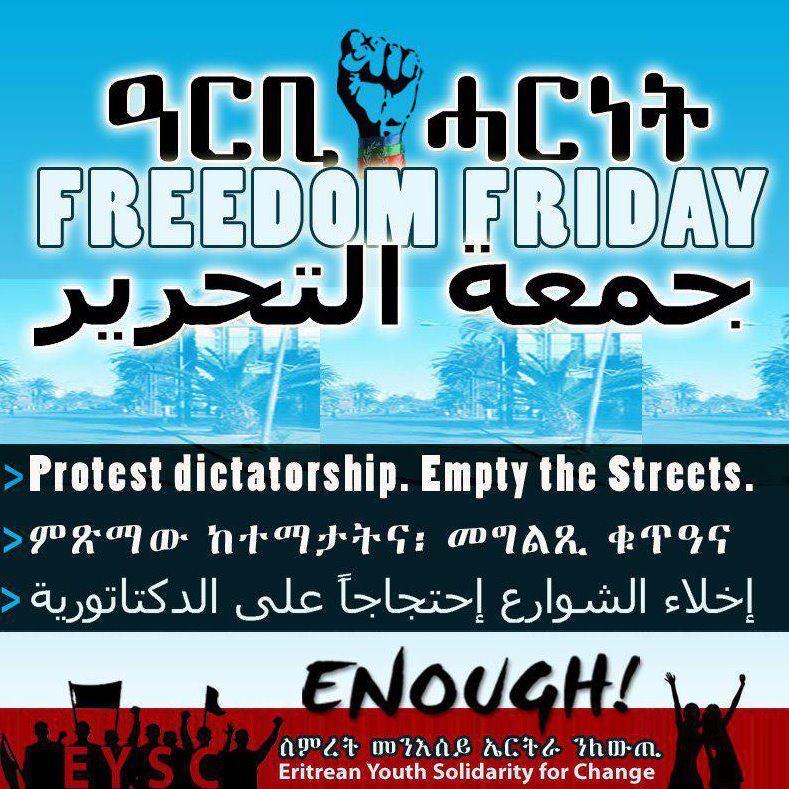 The Eritrean Youth for Change (EYC) and Eritrean Youth Solidarity for Change (EYSC) are calling on Eriteans in Eritrea to "empty the streets" of Asmara this Friday.  This campaign, which was initiated on November 11, 2011 (11/11/11), was subsequently named Arbi Harnet (Freedom Friday) asks Eritreans in the Diaspora to call Eritreans in Asmara to vacate the streets for one day, Friday, every week. 
To get a better understanding of the objective of this campaign, awate.com contacted Daniel Gebremichael, one of the organizers of the campaign.  The Q & A follows:
awate.com: what was the inspiration for Arbi Harnet;

Daniel Gebremichael (DG): The Initiative started a few months back under the name "Empty the Street'' Campaign. In a broader sense, the inspiration came from the Arab Spring Protests. But it was clear to us that the situation in Eritrea is significantly different from those countries, because our youth simply have no opportunity to meet in great numbers in order to discuss, plan or start protests on the streets. So we needed a strategy that fits the situation on the ground in Eritrea and our people's current state of mind. We needed the strategy to enable our people to exercise their rights to protest, visibly and send a powerful statement to counter the widely held perceptions of them being passive. We also needed the channel of communication between diaspora activist and the people back home to begin to open up a bit. So you can say it was inspired by the Arab Spring but as heavily influenced by the political culture in Eritrea
awate.com:  How long has it been going?
DG:  The Empty Streets Campaign was officially launched by the Eritrean Youth for Change (EYC) and the Eritrean Youth Solidarity for Change (EYSC) on 11/11/2011. Hundreds of phone calls were made by volunteers to Asmara and other cities in the country, to inform them about the campaign. But the planning and effort, although carried out with great motivation and enthusiasm, was somewhat sketchy. We soon realised that if we wanted the campaign to materialise into a formidable protest, we had to be much more organised and strategic about it. For one, we needed a name that was catchy, to the point, and that could be easily remembered by the people inside Eritrea. We posted a call for ideas among our 10,000 + EYSC followers, on Facebook, and at the end decided that Arbi Harnet – Juma't A'Tahrir –  Freedom Friday – would be the new name. Again, inspired by the events of the Arab Spring, but also because Friday was seen as the best day to stay at home: it would have a visible impact, as many people go out on Friday evenings, but would still not interfere too much with people's lives and plans. Although promotion for the campaign has continued without interruption since November, the proper re-launch of Arbi Harnet started just this month, on Friday, February 3rd, when tens of volunteers made hundreds of phone calls, msn messages and emails as well as youtube clips and other media communications encouraging people to be a part of the call for democratic changes in Eritrea.
awate.com: What is the objective of Arbi Harnet?
DG:This is a very important question, that needs to be communicated clearly to all. To desert the streets and cities is not our goal, it is an interim objective, a phase one if you wish. Let me explain this in more detail: As I have mentioned before, we needed a feasible strategy, in which we could boost the morale and demonstrate the unity of the people in a form of coordinated and visible protest. These are crucial elements for any kind of protest on the streets. First people need to feel united, strengthened, empowered. Then people need to open up and utilise channels of communication and enhance their ability to plan and enact coordinated events.  This is exactly the objective of Arbi Harnet at this point in time.
At the same time, we will set a statement, that enough is enough and that the tides are changing. But it is important for me to stress from the outset, that Arbi Harnet is a well and carefully explored strategy. We have no illusions about the fact that there will be no revolution if people simply stay at home. But this creats a sense of solidarity across those who ae seeking change in Eritrea. The kind of unity entailed in Arbi Harnet, is in our eyes the missing link, the missing pre-text for a revolution on the streets.
Arbi Harnet is, therefore, the building blocks of our long term objective; communication channels, capacity building, solidarity and empowerment is what we are injecting into our activism through these evenings of protest.
We have set up a Global Coordination Group of 15 people covering strategy, mobilisation, and promotion. We further have a group of Arbi Harnet volunteers of over 50 people, on standby to take up tasks allotted via Facebook, and this number is growing by the day. Many people who follow us on the EYSC Facebook Pages, also phone and email their contacts and inform them about Arbi Harnet. So many people have committed their time and money to actively assist this campaign. And we receive a number of great ideas, many of which we are exploring and preparing behind the scenes, so we can stay ahead of PFDJ.
awate.com: What has been the feedback so far?
DG:   Overall, the feedback has been great. Given the fact that people's daily lives inside Eritrea are terrorised by fear, we have received very supporting and motivating words from many of our fellow country men and women to whom we spoke over the phone to promote the campaign. Some said we should not give up, others told us they would pray for us. But of course many people live in great fear. So the majority have simply listened to us patiently – message delivered.
Interestingly what we haven't had much of, is an outright rejection of our ideas, like the comments you get from diaspora supporters of the regime.
awate.com: do you have plans to extend the campaign beyond Asmara?

Absolutely, we will cover the entire country and all sectors of Eritrea's society. We cannot reveal much at this point about our strategy in this regard, but preparations are in full swing and will be announced when the time is ripe.
What I can say, though, is that, according to 2010 statistics there are approximately 54,000 land lines and 185,000 mobile lines in the country. We have set a target of calling 5% of them, over the next 60 days, this would be around 12,000 phone calls, and we have put in the necessary infrastructure in terms of technology and human resources to meet that target.
We are also using other forms of communication and we closely monitor their effectiveness, some are still at the experimental stages we are all growing and learning and in time our campaign will be sharper and more effective.
I would like to use this opportunity, if I may, to thank all those who have been working relentlessly to make this campaign possible. Close to a hundred people are now fully engaged, many have never even met each other, but all work so seamlessly one picking up from where the other left off  and our geographical spread means that the Arbi Harnet coordination hub works twenty four hours a day and seven days a week.
EYC, whose facebook page has over 1,000 "friends", can be reached at:
https://www.facebook.com/profile.php?id=1810204998
EYSC, a facebook group with over 10,000 members, can be reached at:
https://www.facebook.com/groups/eritreanyouth/
Video Clip: Video of Freedom Friday