Isaias-Abiy Resolve an Issue, Redwan Pulled out of Eritrea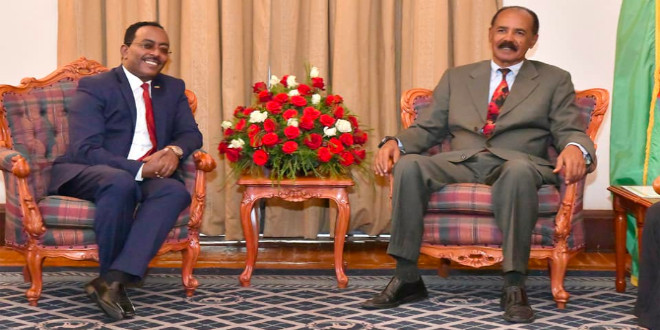 On November 15, 2019, Gedab News reported that Redwan Hussein, who was appointed to be his country's ambassador to Eritrea in July 2018, didn't present his credentials to Isaias Afwerki. The report irritated Ambassador Redwan and several officials from the two governments.
After more than a year in Limbo, Isaias finally accepted the credentials of Redwan Hussen as Ethiopia's ambassador to Eritrea.
The cause of the delay was because Isaias is not fond of Redwan Hussein who made a few statements when Redwan was the minister of communication of his country in 2013-2015. The statements didn't please Isaias and he refused to accept Redwan's credentials.
The stalemate continued until the UAE intervened to resolve the crisis caused by Abiy's choice for an ambassador and Isaias refusal to accept him. In order to dispel the negative media, Isaias and Abiy reached an agreement in which Isaias accepts the credentials of Redwan Hussien before he is recalled back to Addis Ababa.
On December 4, 2019, Ambassador Redwan Hussein finally presented his credentials to Isaias Afwerki, after staying fifteen months in a limbo since he arrived in Eritrea.
The UAE intervention resulted in what insiders described as a quick solution, "an Ethiopian cultural troupe was hastily assembled to tour Eritrea to eliminate the negative news about the Redwan Crisis which could harm the relations between Abiy and Isaias."
Redwan Hussein appeared as the enthusiastic planner of the Ethiopian cultural troupe's tour in Eritrea.
At about the same time, there was an internal crisis was brewing between the Ethiopian federal government and the government of the Tigray state.
At Bole Airport, a six-member Chinese delegation were asked to get off an airplane which was preparing to take off to Mekele, Tigrai. The Tigray government accused the federal government that it was not the first time travelers were denied permission to travel to Tigrai. While Marcos Tekle, the previous minister of State at the ministry of foreign affairs, stated that the Bole Airport incident happened without the knowledge of his ministry.
In his last visit to Addis Ababa, during Christmas week, Isaias Afwerki discussed the final points of the UAE proposal and agreed to pull Redwan Hussein out of Eritrea. A few days after Isaias returned to Asmara, Redwan was ordered by PM Abiy to pack and return to Ethiopia.
Ambassador Redwan is now appointed to the position of Minister of State at the Ethiopian Ministry of Foreign Affairs replacing Ambassador Marcos Tekle.
Gedab News reached out to several keen news observers in Ethiopia for information on Marcos' resignation. A source said, "no one is sure if Marcos resigned or was forced to resign from his position to complete the Redwan Hussein puzzle." Another source said, "Marcos Tekle became the fall guy to trivialize and cover up the Redwan Crisis."