General Salah Gosh Sworn in as Sudan's Security Chief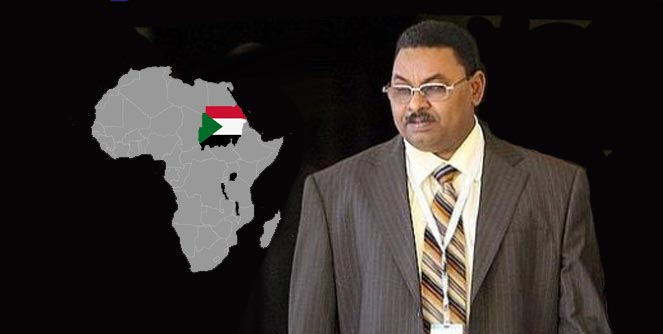 On Sunday, February 12, 2018, Major General Salah "Gosh" Abdulla was sworn in as Sudan's chief of the National Intelligence and Security Services (NISS). This is his second after his first appointment as chief of the INSS in 2004, which he held until August 2009.
General Salah was re-appointment to the position almost nine years after he was removed from the position amid security crisis in the country, including the Darfur genocide that led to President Omar Al Bashir being indicted by the International Criminal Court (ICC). The ICC ruling was generally rejected or ignored by many countries.
In November 2011 Wikileaks released a cable showing that "Gosh had viewed Bashir's indictment by the ICC as a liability and might support a coup against him. "
Subsequently, in November 2012, Salah Gosh was arrested for allegedly plotting a coup to remove Al Bashir's government in collaboration with Islamist under the leadership of General Mohammed Ibrahim. Salah Goas was released from jail in July 2013 after the coup charges were dropped.
Since he became the chief of the NISS in 2004, Salah Gosh has been a staunch supporter of the Eritrean opposition. But once Sudan's trouble with the ICC started, president Isaias Afwerki of Eritrea who hosted the Sudanese opposition parties, intensified his pressure on Sudan to gain security and economic concessions. Thus, in 2008, the Sudanese government terminated its support of the Eritrean opposition forces that it systematically pushed to the laps of the Ethiopian government.
The marriage of convenience between Isaias Afwerki and Omar Al-Bashir continued as Eritrea provided Sudan with cover and access to the world in return for unrestrained security and economic activities in Sudanese territories. A retired Sudanese diplomat explained the relations between the two countries said, "After the ICC ruling, Sudan turned a blind eye to the Eritrean intrusion and interference in Sudanese affairs and territories." He added, "Isaias had enough leverage against Sudan because he was a patron of the opposition forces."
The golden times for the Eritrean government continued until late last year when the ramifications of the Yemeni war, the Turkish ties with Sudan, and mainly, differences over the Ethiopian Renaissance Dam strained the relations between Eritrea and Sudan, which moved heavy forces to close and monitor its borders with Eritrea to stop the illicit trade.
Since the removal of General Salah Gosh from the NISS, Eritrean security agents all but formally ruled Eastern Sudan and have been terrorizing Eritrean refugees living in the region, kidnapping, harassing and killing those it considered its opponents. In addition, its economic arm established a lucrative contraband business smuggling subsidized Sudanese goods to Eritrea. During that time also, elements associated with the Eritrean government established a ruthless human trafficking business in in collaboration with corrupt senior Sudanese officials and security personnel.
Eritrean opposition leaders believe the Eritrean government operated in Eastern Sudan as if the region was part of Eritrea. They think "it will be unlikely for all the illicit trade and brigandage to continue under the guard of General Salah, who is not as timid as his predecessor who is hosted in Isaias' residence and not in hotels or regular guest houses when he travels to Eritrea."
Three leaders of the Eritrean opposition we asked to comment expressed their reserved optimism saying, "it's too early to celebrate the change of faces unless it is followed by a change of policies." While one expressed his worries that, "adding pressure to the Eritrean economy on top of the UN sanctions will hurt the people and General Gosh's appointment is not good news."