Will The Controversial Books By Former Minister Berhane Abrehe Be Out?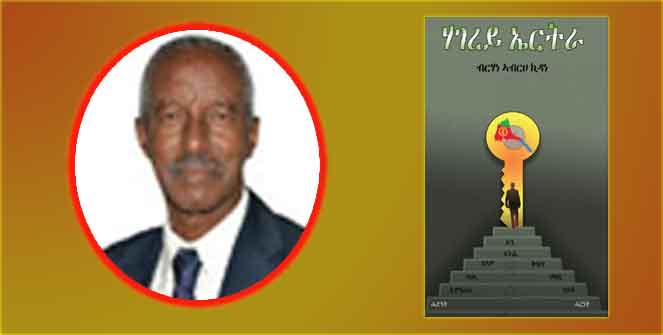 Close friends and relatives of Berhane Abrehe informed Gedab News that two books authored by the former Eritrean Minister of Finance are being printed and will soon be available in the market.  According to the information, the two books will be around 210-250 pages each and are entitled, "Eritra Hagerey [Eritrea My Country].
Details of the books' content are not yet available, however, what appears on the cover of the books that Gedab News received, reads like an expose of Isaias Afwerki, the president of the Eritrean ruling party.
A quote on the cover of one of the books reads, "…in a renewed courage, [Berhane Abrehe] has presented a plan, in a civilized Eritrean manner, on how to end dictatorship [in Eritrea] and how to prevent it from reappearing again".
It's not clear whether the books that are being printed outside Eritrea, have a similar theme and if they are a two-part series. The books will be available in the market very soon.
Until a few years ago, Berhane was being medicated in Italy until the PFDJ stopped paying his bills and then prevented him from leaving the country. A close friend of Berhane told Gedab News, "I told him to get out of the country in any way possible, but he adamantly refused." He added, "Given his past experience with Isaias Afwerki, he knows the consequences, but he said he would rather die in his country and is still in Asmara."
Berhane has been in poor health for a long time.
A graduate of the University of Illinois at Urbana-Champaign, Berhane joined the EPLF in 1975 and worked in the Department of Agriculture until 1986 when he became a member of the Higher Commission on The Economy, a four-person committee chaired by General Ogbe Abraha, a member of the G15 who were jailed almost two-decades ago. No one knows whatever happened to them.
The former minister had a falling out with Isaias Afwerki over the need for budgets and audits. As a result, his ruling party and ministerial portfolio were taken away and he was frozen.
It's not yet known how much inside stories the books will expose. However, given the serious confrontations, that Berhane had with Isaias Afwerki over budgets and auditing of the Nevsun operated Bisha Gold Mine revenues, a lot of critical information are expected to be explained if the books ever come out as planned.
Berhane's wife was in jail in Asmara, since a few months ago as a punishment when their adult son escaped from Eritrea. She is still in jail.
Related Links: