Eritrean Officials Accused of Crime Against Humanity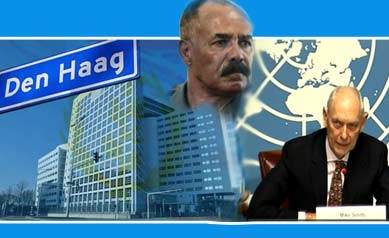 In a press conference it held today in Geneva, the United Nations Commission of Inquiry on Eritrea (COI) presented its report accusing the Eritrean government and ruling party officials of committing crimes against humanity.
The presentation was made by Mike Smith, the chairman of the commission; the two other members of the commission, Sheila Keetharuth and Victor Dankwa, were not present.
The report states that crimes have been committed in Eritrea "for the last 25 years." On May 24, 2016, Eritrea celebrated its 25th independence anniversary. The entire government was mobilized to prepare for the celebrations since February of this year. School children and thousands of conscripts were in rigorous training for the celebration dances and parades.
The COI report stated that enslavement, imprisonment, forced disappearances, rape murder, and torture, "were committed as part of a widespread and systematic violations in Eritrea." According to the report, the violations were "primarily, directly or indirectly, [committed] by the government and ruling party officials, military commanders and members of the security office."
Every year, roughly 25000 eleventh grade students are hauled to military camps where they are supposed to finish high school. Thereafter, they begin an indefinite national service that generally continues for many years of forced labor under harsh conditions.
Mike Smith said that the COI received 45,000 written submissions, including from people who support the ruling party and justify its actions. The government of Isaias Afwerki has also mobilized Ethiopian opposition groups stationed in Eritrea to campaign against the UN COI in an attempt to discredit its findings.
The Peoples Front for Democracy & Justice (PFDJ), which is led by Isaias Afwerki, has been ruling Eritrea with no constitution since the defeat of the Derg, the Ethiopian occupational regime, in 1991. The PFDJ is the only legal party allowed to operate in the country taking harsh measures against signs of minor dissent.
Free press has been banned in the country since 2000. The fate and whereabouts of thousands of prisoners, including religious leaders, government officials, and reporters, who were arrested over a decade ago, is still unknown.
For several years now, Eritrean refugees who flee from the dire political situation in Eritrea have inundated European shores arriving in rickety boats at a very high human cost. Hundreds of Eritrean refugees have drowned in the Mediterranean Sea during the last two weeks alone.
More than 5000 young people flee from Eritrea every month and seek refuge in Ethiopia and Sudan and most of them continue to Europe through the Sudanese, Libyan and Egyptian deserts.
Related reading
Eritrea: UN Extends Mandate of Two Human Rights Bodies
Commission of Inquiry On Eritrea: Press Conference
Geneva: Commission Of Inquiry On Eritrea Threatened