New York: An Eritrean Rally Planned In New YorK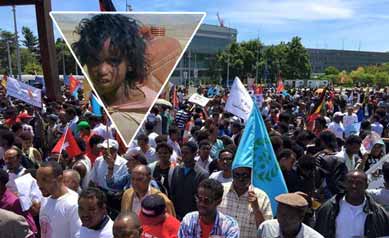 Hundreds of Eritreans are expected to attend the planned demonstration on October 29, in New York, to show their support of the United Nations Commission of Inquiry on Eritrea (CoIE).
The UN established the CoIE in July 2014 with a mandate to investigate human rights violations by the Eritrean government against its people.
In June 2015, the CoIE issued a damning report of 484 pages which was compiled from interviews with over 500 witnesses and over 150 written testimonies.  Some of CoIE's findings are serious crimes against humanity and may lead to indictments of officials of the Eritrean ruling party at the world court.
In June 26, 2015, thousands of Eritreans from many countries gathered in Geneva, Switzerland, to demonstrate in support of the CoIE. The upcoming New York demonstration has a similar goal of showing Eritrean support for the CoIE.
Many demonstrators are already on the road on buses from many cities across the USA on their way to New York While some many others will fly to New York tomorrow. Eritrean community centers across the East coast have organized car pools to drive to New York.
On Thursday, the demonstrators will deliver a petition to the UN urging it to pursue the legal procedure to bring the culprits of the serious crimes mentioned in the CoIE report.
A member of the adhoc committee in New York told Gedab News that a seminar will be held following the demonstration infront of the UN Headquarters. Speaking about the objectives of the demonstration he said, "it's a show of solidarity with the Eritrean people in general and the plight of victims of the regime in particular." He added, "we also want to prove to all concerned that as Eritreans, we are working together to bring a solution to the crisis in our country."
Over the last week, rumors have been spreading to discourage people from participating in the demonstration and alleging that "the demonstration is organized and funded by the Weyane [Tigray People's Liberation Party, a member of the Ethiopian ruling coalition]."
The signature branding of "Weyane" by Eritrean regime and its supporters is used to mean sell-out, and all they brand all Eritreans who oppose the regime as such.
So far, the support that Eriteans have shown to the CoIE is unprecedented, unlike the support for the sanction regimes that the UN imposed against the government. While the mandate of the CoIE directly addresses the plight of Eritreans, the sanctions regime basically imposed as a result of violation by the Eritrean outside its borders.
Eritreans were generally apprehensive of the UN who has failed to address the violation of the Eritrean regime against its people, but that changed when the UN appointed Ms. Sheila B. Keetharuth "in October 2012 as the first Special Rapporteur on the situation of human rights in Eritrea."
Related links:
Eritreans Declare An Initial Victory In Geneva
Commission of Inquiry On Eritrea: Press Conference
Geneva: Commission Of Inquiry On Eritrea Threatened