Massive Eritrean Resistance Rally In New York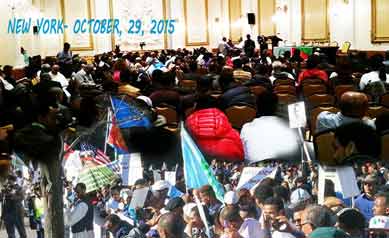 This morning Eritreans held a major demonstration In New York in support of the UN Commission of Inquiry on Eritrea.
The rally was started with a prayer carried out by Christian and Muslim elders; a demonstrator explained, "we have to reclaim our traditions that are being destroyed by the Isaias regime."
This has been the second massive demonstration carried by the Eritrean resistance movement after the Geneva demonstration they carried out last June.
The demonstrators flocked to New York in buses, airplanes, car pools and trains from cities as far as Seattle, Southern California, and Dallas.
A demonstrator from Atlanta who has been a supporter of the Eritreans regime until recently said, "I participated in many demonstrations, including the one that was carried out in New York to bolster the popularity of Isaias four years ago; this is the biggest crowd I ever joined."
This afternoon, the 500 person venue of the port-demonstration seminar is overflowing with people, who have occupied even the walkways in the hall. Many are lingering outside for lack of space. The seminar is still underway and is expected to finish later this evening.
The famous Eritrean artist Yohannes Tikabo participated in the demonstration and offered a contemplative song to the demonstrators. Yohannes, better known as Wedi-Tekabo, abandoned the Eritrean regime two years ago and has been entertaining and motivating Eritrean resistance members in many events.
According to a participant, "the demonstration has been an inspiring representation of the entire Eritreans demographics." He added, "young and old were present, but the considerable presence of women, is a game changer."
Though many depict Eritreans are being polarized based on several fault lines, particularly the region and religion, the New York demonstration "proved that such fault lines are not as severe as the distractors of the Eritrean resistance to tyranny try to make it."
A member of the ad hoc committee that organized the demonstration said, "this is the first event that doesn't have football or music, and it is the first time I feel fulfilled." A demonstrator from Seattle said, "my long trip was worth it, I am inspired and rejuvenated."
In addition to the support for the CoIE, many placards carried messages to the European Union, which is "cajoling the drowning repressive Eritrean regime by offering it lifebuoys." The EU is preparing an aid package to the Eritrean government.
Eritreans are apprehensive of the EU that provides the Isaias Afwerki regime with funds without putting enough conditions for the improvement of governance and respecting the human rights of Eritrean citizens.