EU, UN, US: 10-15 Million Ethiopians Need Food Assistance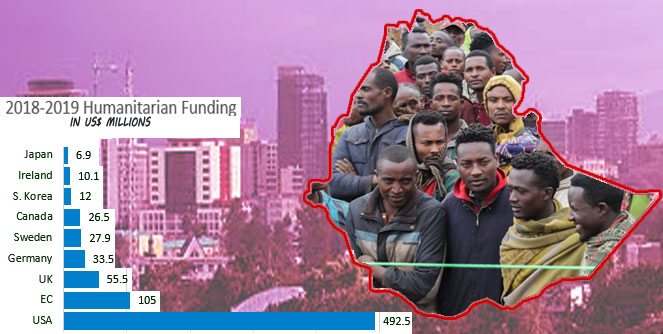 After reeling in from the 2015-2016 catastrophic drought, the worst in 50 years according to USAID [1], that depleted food stocks and left millions on need for food aid, Ethiopia is facing yet another humanitarian crisis that is causing millions to leave their homes. The state-controlled and the highly partisan private media have not pursued a full and objective coverage or gave a clear assessment of the magnitude of the crisis.
A glimpse into this crisis was presented by a CNN report that aired on Feb 19, 2019 [2]. It featured Ethiopian migrants fleeing violence and extreme poverty to Saudi Arabia despite the risk of crossing the war zones of Yemen, a country torn apart by civil war exacerbated by external military interventions, cholera, and famine. The report cited Organization for Migration (IOM) estimates that each month about 20,000 migrants attempt the journey in search for a better life.
According to Internal Displacement Monitoring Center (IDMC) figures [3], shown below, the number of displaced people in Ethiopia has doubled to the current 2.8 million since the tectonic shift in the political landscape of Ethiopia that resulted in PM Abiy taking office in April of 2018.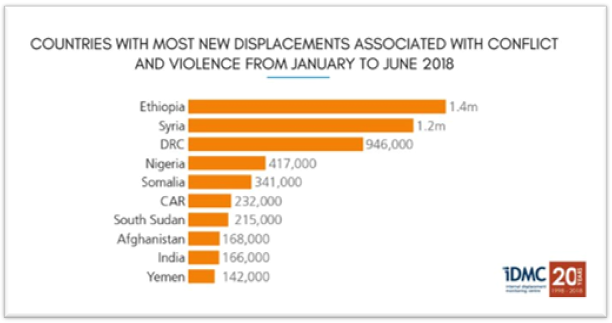 Amid rising ethnic tensions and violence that is tearing apart the fabric of the multi-ethnic Ethiopian society, the international aid workers broach the politically sensitive crisis with caution so as not to jeopardize their ability to continue to do their work.  However, their publicly available reports shed some light into the depth of the crises in some remote regions, which are out of sight of major urban areas that, by contrast, have seen a seeming real estate construction boom in the last decade. The affected areas are inhabited mostly by disfranchised ethnic groups, and their plight have not garnered international media attention. Still, the following reports paint a dire picture of the looming humanitarian crisis that is gripping Ethiopia today.
The UN Office for the Coordination of Humanitarian Affairs [4] annual report issued  on Jan 31, 2019 states that "the level of humanitarian needs in 2019 will remain similar to 2018 mainly due to mass internal displacements in various parts of the country, and related humanitarian and protection needs." The report indicated that "some 11 million people in drought, flood and conflict-affected areas of the country were assisted".
On Dec 12, 2018, the EU Commissioner for Humanitarian Aid and Crisis Management, Christos Stylianides, while visiting Ethiopia said in a statement that €89 million in humanitarian aid were provided to help internal displaced Ethiopians [5]. In describing the ongoing humanitarian crisis, the statement stated that recently. "close to 3 million people have fled inter-communal violence and conflict."The statement further added:"Recovering from two successive droughts, an estimated 7.8 million people are in need of emergency food assistance, in addition to 7.9 million that are considered chronically vulnerable. Growing ethnic violence is currently the biggest driver of displacement."
 The USAID country fact sheet on Ethiopia [1] highlighted that, as of Jan 2019, 2.9 million people remain displaced. Currently, the number of people requiring emergency and non-emergency food assistance reached 9.5 million and 8 million, respectively. In 2018, there were some 4.5 million cases with acute malnutrition.
As of January 2019, in response to the $1.49 billion appeal by Ethiopia and UN, the US committed $492.5 million, a third of the appeal amount, and the balance was committed by other donors.
For now, experts do not expect these emergencies to turn into famine because Ethiopia, in coordination with international organization, has put in place an early warning system and a rapid response food assistance program. For the last six decades, food insecurity remained a perennial threat that has dogged Ethiopia to secure basic needs for its people.
Moreover, Ethiopia is also burdened by the influx of refugees from neighboring countries. According to the Office of the UN High Commissioner for Refugees (UNHCR), Ethiopia hosts about 906,000 refugees, primarily from Eritrea, Somalia, South Sudan, Sudan, and Yemen [6].
In Jan 2018, Ethiopia implemented the Comprehensive Refugee Response Framework (CRRF) [7] it signed in Sept 2016 and expanded refugees' legal rights and granted them access to national services such as primary education and financial institutions, and the ability to obtain work permits and driving license. The CRRF, signed by 193 member states, calls for the respect of human rights of refugees and migrants. To improve their living conditions until they are able to voluntarily return to their home countries, it aims at integrating them in the communities to become self-reliant and contributing members to local economies hosting them. It attempts to make refugee camps an exception and a temporary measure in cases of emergencies.
In the past years, the UNHCR has managed to secure funding only for half of its budgeted operational requirement in Ethiopia which amounted to $166 million for 2018.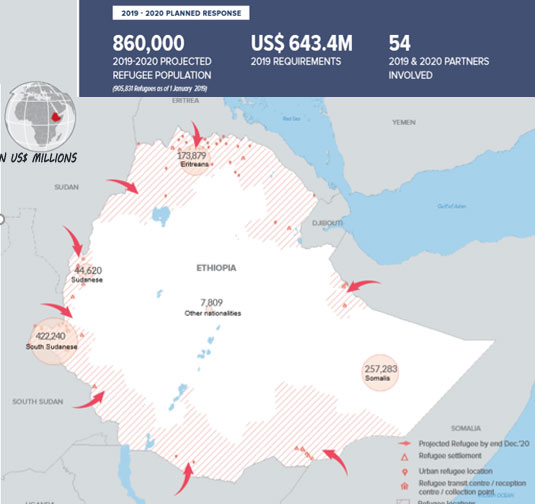 Reference
[1] Ethiopia – Complex Emergency, Fact Sheet
[2] The Ethiopian migrants braving Yemen's war to find a better life in Saudi Arabia
[3] Internal Displacement Monitoring Centre (IDMC) 2018 Mid-year Report
[4] Ethiopia: Humanitarian Response Situation Report No. 20 (January 2019)
[5] EU steps up support for Ethiopia: emergency aid for refugees, internally displaced people and to tackle natural disasters
[6] Ethiopia: Country Refugee Response Plan
[7] Comprehensive Refugee Response Framework