Eritrean Resistance Forces Declare Victory in Bologna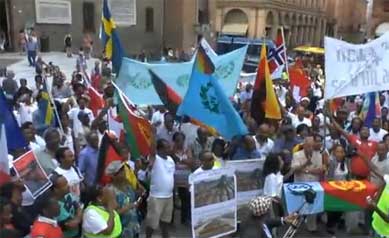 For the last three days, the Italian city of Bologna has been a battleground for a showdown between the supporters of the Eritrean regime and its resistance forces.
Hundreds of supporters of the regime travelled from all of Europe to attend the festival that was sponsored and organized by the Eritrean ruling party.  Almost all senior members of the Eritrean ruling party flew in from Asmara to attend the festival and brought along singers, music bands, poets, comedians, dancers and actors.
At the same time, hundreds of resistance members flocked to Bologna to show their defiance of the Eritrean government.
Several attempts were made by Eritreans opposed to the regime to dissuade Bologna city authorities from allowing the PFDJ festival to take place. The authorities didn't heed to the appeals.
According to an organizer of the protest demonstration, "allowing activities of the ruling party that is accused of gross human rights violations by international agencies is an affront to justice and democracy. The city is showing its condoning of dictators."
A member of the ruling party in the Netherlands told Gedab News, "I am European, I can support anyone I want." Asked if he would support a regime that violates the human rights in his ancestral country he said, "all my family is in the Netherlands."
The Bologna resistance demonstration saw a bulge in the numbers of the resistance members who came from as far as Sweden to join the demonstration. A resistance member stated, "We are no more the underdog, we have more voice than the regime supporters. We declare victory in Bologna!"
Towards the end of the festival, two clashes were reported when Eritrean security guards employed by the Bologna Festival injured two protesters.
Significance of Bologna
The Eritrean People's Liberation Front (EPLF) initiated the Bologna Festival in 1974 and it attracted hundreds of Eritreans who saw it as a means to demonstrate support for the Eritrean struggle against Ethiopian occupation.
It is unclear why the 40th anniversary of the Bologna Festival is being celebrated with such fanfare as the 25th and 30th anniversaries were largely non-events.
The event, which was live-cast in Eritrea, appears to cater to people's nostalgia: most of the artists who were flown in, now in their 50s, gained fame in the 1980s.
Among the government officials who were attending are Yemane Gebreab, political director of the ruling regime; Yemane Gebremeskel, the director of the Office of the President; Osman Saleh, Foreign Minister; Hagos "Kisha", finance director of the ruling party and Woldenkiel Abraha, Minister of Local Government.
Ironically, the official who had a lot to do with the original Bologna Festival, Sebhat Ephrem, the Defense Minister, was not among those attending.  He appears to be on the "frozen" list of the Eritrean regime.