Eritrean-Ethiopian Border Crossing at Um-Hajar Closed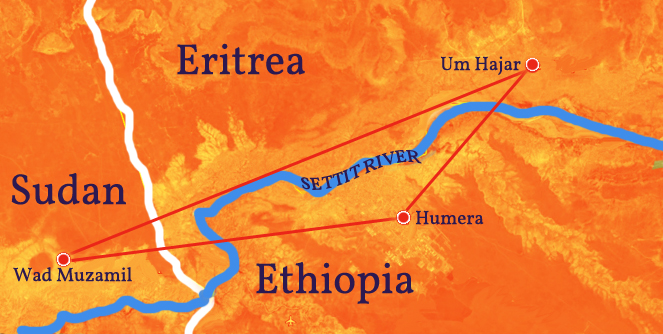 Reports from Eritrea indicated that the border crossing from the Eritrean town of Um-Hajar to the Ethiopian town of Humera has been closed. The road between the two towns run through a bridge over the Settit River which forms a natural border between Eritrea and Ethiopia.
Humera and Um-Hajar towns form two tips of an obtuse triangle whose third tip is the Sudanese border town of Wad Muzamil.
All roads and border crossings between Eritrea and Ethiopia were closed in the aftermath of the Ethiopian-Eritrean border war of 1998-2000. The Um-Hajar bridge was opened shortly after the Eritrean and Ethiopian governments agreed to normalize relations. However, it was closed again in less than a week.
According to reports that reached Gedab News, the road leading to the bridge is now blocked with rocks and thorny acacia bush branches.
There was no official announcement of the opening of the border crossing and no reason was given for its closure.