An Eritrean Opposition Group Claims To Have killed Five Government Soldiers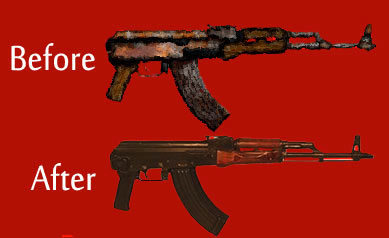 In a statement it issued, an Eritrean opposition group known as United Eritrean Democratic Front (UEDF) said that its elements have attacked a government security squad led by Captain Negassi Seare and killed all its members.
According to the statement, the attack was carried out on Sunday 11pm local time, on January 11, 2015 in the Gash Barka region between the villages of Grmaika and Temerat.
Both villages are deep in Western Eritrea close to the Sudanese border.
According to the UEDF statement 1. Captain Negassi Seare , 2. Second Lieutenant Saleh Mohammed Ali, 3. Sergeant Kahsay Ghidey, 4. Lance corporal Zeratsion Haile, and, 5. A soldier who didn't have an ID card in him, were killed.
The UEDF also stated that it has confiscated three AK-47 (Kalashnikov) rifles, one Tokarev pistol, 3 Chinese bombs, and a mobile phone.
It alleged that Captain Negassi and his squad have been terrorizing Eritreans escapees and refugees, in the border area, in Eastern Sudan, and has kidnapped several refugees from Shegerab camp.
UEDF defines its mode of operation as one that pursues both peaceful and armed struggle against the PFDJ government. Until its recent congress a few months ago, "it was known by its Tigrinya acronym MEDEFE'E [Eritrean Movement for Democracy and Justice (EMDJ) and after the congress it changed its name to UEDF."
UEDF stated that its operation of Jan. 11, "is not only an expression of our people's anger or a reaction to Isaias's announcement of the death of the constitution, but also…. a warning to all those who have become the tools of the PFDJ and are engaged in the hunting of and are washed in the blood of citizens… it is an advice and a warning to the Isaias regime and the Isaias group."
The group also claims that it has been carrying out military operations inside Eritrea since 2014.
Gedab News contacted a member of UEDF leadership who goes by the name "Qeshi" who explained, "At the moment our organization's operations are clandestine but the leadership is spread in many places including in the neighborhood around Eritrea."
Asked if his group launches its operations from Ethiopia, Qeshi said, "Though we have asked Ethiopian authorities for permission to establish a training camp for our members, they have not yet allowed us to operate from Ethiopian territories."
There are several armed opposition groups in Eritrea operating along its southern border and Gash Barka region.