Eritrea: Gedab Reports (Aug 26, 2000 – Aug 21, 2001)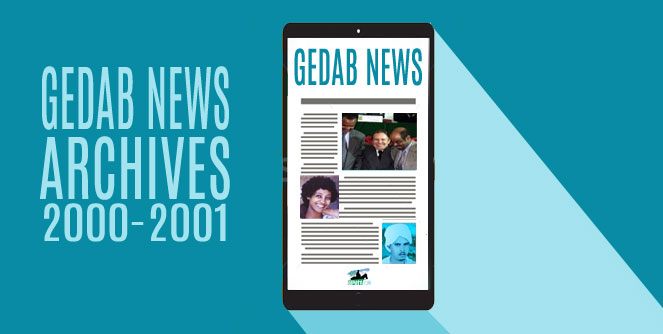 The following are condensed one-year worth of Gedab Reports. Human beings are forgetful by nature, and we though this report will help refresh the memories of those who are interested in Eritreans affairs, and serve as a crush course for those who do not know about the Eritrean predicament. The following intro paragraph is a 19-year old quote from The Pencil.
"Someone branded Gedab News as a Tabloid. Remember Pulitzer Prize? It was named after Pulitzer, an early journalist who owned a Tabloid. So, Tabloid is not bad as they try to make it sound. They complain: unsubstantiated news where the sources are not disclosed! It is funny that some have the nerve to ask of the source; how strange! Why would one reveal his sources? For example, if Gedab News reports of a cousin or a nephew who left behind a family and is in jail without trial for years, how would it substantiate that? If Haddas Ertra, the ruling party's outlet, is the yardstick, then, we all fail miserably in the strange litmus test. But hey, with the scary Press Law that we have, it is difficult….have any of you thought of guarantees? We encourage you to read the Fit-for-Halloween-scare Press Law and think about it enough. Until then, Gedab News will stay Gedab News and no one is shoving news dawn any body's throat. The deal is "Take It Or Leave It". 
In the days that we wrote the above, we had a slogan for Gedab News: Read It Here Now. Or, Read It Elsewhere Later. 
The following are some condensed Gedab News reports between Aug. 2000 to Aug. 2001(viewing on PC is recommended):

Date
Gedab Reported
What You Now Know
08/26/2000
The second initiative is sponsored by reform-minded EPLF sympathizers who are preparing for a secret meeting to draw a proposal that will be signed by all involved and be sent to the EPLF leadership.
This was the launching of G-13
09/09/2000
A large group of independent opposition elements are organizing themselves to meet and discuss a strategy of opposition to the Government of Eritrea. Though the opposition elements support the Charter of the Alliance Forces, they have serious misgivings regarding the tactics the Alliance leadership pursued over the last few years
This was the launching of Eritrean Independent Democratic Movement (EIDM) in Washington, DC, which just observed its first year anniversary.
09/10/2000
After holding an extraordinary meeting in Asmara in the end of August, 2000, the Central Committee of the PFDJ was informed by President Issayas Afwerki about his decision to form a Committee to study and assess the performance of the party…. unlike previous meeting, was tense and heated arguments were prevalent. It has been learned that the President, for the first time ever, was challenged about his decisions that he takes without consulting the Central Committee
The meeting was so "extraordinary" there hasn't been a meeting since.  This is the meeting where The Reformers (G-15) coalesced and General Uqbe complained about his demotion.  It was also the meeting where the President's Office got its mandate to "assess" the war: by writing its "Discussion Paper" which blamed the Reformers for adopting a "defeatist" attitude.
10/16/2000
Reports from Asmara indicate that on Saturday night October 14, 2000, seven journalists have been detained
In a familiar pattern, the government told us that these reporters were sent to serve their nation.  One of the seven was Mathewos who has been sent to "national service" once again.
11/08/2000
The Minister of Transportation and Communication was fired by President Isaias and was assigned the job of Governor for Asseb. The Minister, Saleh Kekia has since refused to accept the new position and is currently without a job after he lost his ministerial portfolio.
Saleh Kekia later was a signatory to the Open Letter to PFDJ Members.  He is a member of the Central as well as National Council but is no longer part of the executive branch: neither "governor" nor "mayor."
11/21/2000
Awate.com has learned that the University of Asmara has been racing against time to use the funds that was donated by the European Community (EC) before the end of the year. . If not used by then, the EC has indicated its wish to cancel the funds.
One of the signatories of the "Berlin Manifesto" was the scholarship co-ordinator in South Africa.  Claiming that she was recruited under false pretenses, she disavowed G-13 shortly after the publication of the manifesto.
12/06/2000
Awate.com has learned that three anti-tank mines exploded in Western Eritrea, killing one and injuring three civilians. The explosions occured in three separate incidents on Monday, December 4, in the vicinity of Barentu.
his was confirmed by the GoE a few months later.
12/02/2000
Awate.com learned that Ambassador Haile Menkerios has been called back to Asmara for possible assignment to a different position.
The Ambassador was a signatory to the Open Letter and he ended up accepting a UN position.
12/24/2000
Awate.com has learned that Ambassador Haile Menkerious was appointed to the position of Deputy Foreign Minister.   As reported by Gedab News in an earlier edition, a controversial appointment has been announced: Ms. Amna Melekin has been named the new Ambassador to   Australia.
A double-header: Gedab was wrong on the report about Menkerious. Amna Melekin was given the VIP treatment, and she declained the ambassador position.
01/05/2001
…the 5th congress of the ELF-RC could not be held as scheduled because of Sudanese Government's last minute reversal of its earlier approval for the congress to be held "somewhere" inside the Sudan.
True.  It actually happened to them again.  The Sudanese government (its security office, the governor of Kassala) gave the ELF-RC clearance to hold its congress and then, on the date of the scheduled meeting, Sudan's Foreign Ministry barred the meeting forcing the ELF-RC to trek to Gonder via Metema.
01/07/2001
(a) Ms. Gail Smith has recently visited Asmara and met with president Isaias Afwerki who gave her a message to Prime Minister Melles Zenawi. Diplomatic sources in the OAU said that the message was an initiative from president Isaias to normalize relations with Melles Zenawi who reportedly gave the message a cold reception
Both reports are true.  The irony about President Isaias' initiative was that it occurred at about the same time his "advisors" were accusing the Reformers of not showing sufficient animosity towards "our blood enemy" the Woyane.
01/17/2001
Ato Pharon Weldu, an ex-combatant with the EPLF [and the husband of the popular singer "gual ankere"] was snatched from his house by  security personnel on Saturday night, January 13, 2001
True.  And Pharon is still in jail.
01/19/2001
Major-General Berhane Gebrezgabhier was fired from his duties as Chief of the Eritrean National Reserve. The General was informed of the decision via mail he received today, Thursday, 19 January.
Major General Berhane Gebrezgabhier was one of Reformers who authored  the "Open Letter" in May.
01/23/2001
Mr. Hamid Hmid is back—thawed and ready for work.   In his new capacity as the Head of the Department of Political Affairs in the Eritrean Ministry of Foreign Affairs (MoFA), Hamid has been tasked with mending relationships with Arab nations to lay the groundwork for Eritrea's entry in the Arab League.
Hamid Hmid is one of a couple of Eritreans from Gash-Barka region who is a member of the Central Committee due to "ethnic balancing" politics of PFDJ.  His removal would drastically alter the balance which is why he is in and out of favor.  Right now, the PFDJ is trying hard to "divorce" him from the Reformers while Trgta (the NEUYS mouthpiece) is reminding him that he became a member of the Central Committee AFTER independence.
02/07/2001
The "Freezing" of Sherifo: Gedab News has learned yesterday of a note issued by the President's office ordering regional governors to report directly to the Presidential Office until further notice.
According to Sherifo, he received the information on the eve of the day his committee on electoral laws was scheduled to go public with its report.   The presidential office later "adopted" the work of the committee.
02/23/2001
ERITREAN CITIZENSHIP ON SALE: $7,000.  The selling of Eritrean nationality began in April 2000 when in an advertisement, which appeared on Al Qabas Newspaper, an Arabic Kuwaiti daily, Kuwaiti brokers offered to sell nationality cards and passports for $13,000. Since then the price has gone down to about  $7,000 The targets of the sale and the clients of the passport "Bdun", which literally means the "without."
Copies of the newspaper ads were scanned in two Eritrean web sites.  This information is common knowledge to Eritreans who live in Kuwait.
02/26/2001
Gedab News has received a copy of an explosive 15-page document entitled "Discussion Paper: Political Campaign Following Woyane's Third Offensive."  Dated January 2001, and claiming no author, the paper, which is written in Tegrinya, is a political manifesto that has been the subject of controversy within the ranks of PFDJ leadership.  The paper reads like a "how to" manual designed to help PFDJ cadres and supporters rebut the mounting criticism against the ruling party's administration of Eritrea as well as lay the groundwork for purging critics of its policies
All true.  In fact, to those who accused us of "exaggerating" or "overstating" a "minor hiccup" we would like to ask: is the crisis in Eritrea a "minor hiccup"?  In retrospect, don't you think we understated the seriousness of the case and what this document represents?
03/10/2001
Ambassador Menkerious Officially Appointed By Kofi Annan
This is a public record.
04/25/2001
Twenty PFDJ Central Committee members including Oqbe Abraha, Adhanom Gebremariam, Mahmoud Sheriffo, Haile "DruE"Woldensaie, Petros Solomon, Mesfin Hagos and Saleh Kekia have written two letters to President Isaias Afwerki demanding that he convene a meeting of the Central Committee to discuss issues of government reform.  The president has yet to respond to the letters in writing but has made it known through his aides that, procedurally, he is not mandated to call for a meeting unless two thirds of the members of the Central Committee demand a session.
Correction: the president DID respond.  He told them not to provoke him and that they are making a mistake.
04/27/2001
Unconfirmed news from Jeddah indicate that President Issais met with Prime Minister Melles of Ethiopia on Wednesday. The sources said that the secret meeting was held under the auspices of the USA and facilitated by Saudi Arabia.
The news is still "unconfirmed."  President Isias Afwerki denied this but that, of course, means absolutely nothing.
05/02/2001
Zemede Tekhle Replaces Ambassador Berakhi.  Zemede Tekhle, a close associate of Hagos Kisha has been appointed to the position of Eritrean Ambassador to Germany.
Ambassador Berkhi is another casualty of the reform movement.  He was one of the signatories of the Open Letter to PFDJ Members.  Ambassador Berahki used to be in charge of the Ministry of Information before he was sent packing to Europe.
05/30/2001
Rumors spreading fast in Asmara amid tense situation.   After the Reformers went public and disclosed the correspondence letters that went between them and President Isaias Afwerki. Rumors are fast building in Asmara accusing the reformers of Corruption, sub national sentiments, creating chaos and disrupting national unity.
And this hasn't stopped since May 2001.
06/04/2001
"Reformers Outnumber Hardliners" Alamin Sheikh Saleh did not sign the final petition to the President because he believed the letter to the president was too mild.  On the other hand, Musa Rabaa, Eritrea's Police Commissioner, seems to have succumbed to pressure from the President's Office that threatened him with "court martial."
The winnowing of the G-19 has now extended to the 60 members of the Central Committee who are reportedly agreeing to turn against the Reformers because they don't want to lose their income.
06/08/2001
Today President Isaias Fired the Minister of Trade and Industry, Mr. Haile Weldense (Drue) and the Minister of Marine Resources, Mr. Petros Solomon
Both were signatories to the Open Letter and part of the reform movement.
06/18/2001
Dragon summons Moslem religious leaders to his office.  Gedab News has learned that two weeks ago, during the Muslim holiday commemorating the Birthday of The Prophet [Mewlid ANebi] at Asmara's main mosque, several elderly citizens, including Fitewrari Hedad Kerar, accused the Eritrean Government of discrimination against Muslims.
Some zealous folks who wanted to "expose" us threatened to call Dragon and prove us wrong.   We haven't heard from them since.
06/25/2001
For weeks, there have been rumors circulating that the Government of Eritrea was about to expel two Americans, including an employee of USAid, for fraternizing with the Reformers and linking with the increasingly-independent private press. The decision to expel them was reversed under heavy pressure by the American Embassy in Eritrea. Contacted by Gedab News to comment, the Public Relations Officer at the American Embassy in Asmara, Ms. Colette Christian, dismissed the reports and told our reporter that "there has been no problem between USAid and the government since 1996."
The numbers who were about to expelled may have been as many as four.   Several credible sources, including reporters, told us that our reporter did not word his question carefully and Ms. Colette Christian's denial was, in diplo-speak, not a denial.
07/09/2001
Hammed Hmed  detained and released on Friday. Mr. Hammed Hmed was interrogated  by security authorities in Asmara for hours before he was released in the evening after "a lot of humiliation and disrespect" as a reliable source indicated. The accusation was  related to the leaking of news to the London based Saudi owned Arabic daily Al-Sharq Al-Awsat, about the petition which was initiated by a group of Eritreans in cooperation with  Asmarino.com, a leading Eritrean Diaspora Website.
Frozen.  Thawed.  Frozen again.  ArabicNews had reported that Hamed Hmed and his family had sought political asylum in Canada.  For whatever reason, some people insist on reporting that Gedab News (Awate.com) reported this.  We never did. Recently, there have been reports circulated by "you-know-who" that the family of Hamed Hmed had sought political asylum in Canada. The writer was outraged not for the sad situation that forces someone to seek asylum but for daring to challenge PIA.
07/15/2001
Eritrean Authorities Interrogate Mediators. Fifty elder Eritrean citizens whose attempt to mediate between President Isaias Afwerki and the fifteen dissenting lawmakers who authored the "Open Letter to PFDJ Members" was aborted by the President's Office and have been summoned by the Eritrean Government to give an account of their motives.
The Eritrean people (who are "politically mature") were repeatedly invited to by the president "judge for themselves."  When they exercised their judgment and decide to mediate the conflict, they were interrogated as suspects and accused of breaking a law against political assembly. The people are certainly judging.
07/17/2001
An Eritrean Ambassador Said to Have Defected to the USA.  Reliable sources report a fallout between the Government of Eritrea and an Ambassador assigned to the Scandinavian nations, Mrs Hebret Berhe. The fallout is believed to have started last March in Berlin when the Ambassador openly opposed and spoke against Ali Said, the Eritrean Foreign Minister when he gathered 27 Eritrean Ambassadors and diplomats to discuss ways of enacting the "Asmara manifesto"  a "Discussion Paper" making the case against intellectuals and high ranking dissenting government officials who later came to be known as Reformers.
Did she resign or did she defect? Usually, people who defect do not disclose the reason for their defection until they reach their destination point.   This is consistent with what Ambassador Hebret Berhe did.  (As did Ethiopia's Almaz who was speaker of the upper chamber.) But Mrs. Hebret says she resigned so we will take her word for it and that is why, in fairness, we chose to run a correction.
07/26/2001
Eritrea's Chief Justice Accuses President's Office of "Interfering". On Monday, July 23, at a conference of Eritrean scholars, academics and politicians in Asmara, Eritrea's Chief Justice of the Supreme Court, Justice TeAme, lambasted the President's Office for intruding into the affairs of the Court.
See entry for 8/10/01
07/29/2001
MEQALEH's Editor-in-Chief Abducted. Mattewos Habteab, the editor-in-chief of Meqaleh, an independent Eritrean weekly, was abducted by security forces on 25 July and his whereabouts is still unknown.  In the past, the government has responded to inquiries about disappeared journalists by stating that they have been sent to the front-line to "fulfill their national service obligation."
See Gedab news for 10/16/2000.  Mattewos was one of the seven reporters arrested then.  The arrest of Mattewos did not receive the attention it deserved because it was followed by a series of other firings, arrests and death. The whereabouts of Mattewos is still unknown.  The government's claim that he is "fulfilling national service obligation" is a convenient all-purpose answer.
08/01/2001
Asmara University Students Issue A Statement  on the Arrest of their President In a message to awate.com, the Student Union of Asmara University informed awate.com of the arrest of Semere Kesete. According to the  message, Semere Kesete was "arrested from his home by national security agents on Tuesday July 31st, 2001 at 7:45 A.M." According to the news, the government has not made any official statement regarding his arrest neither to his family nor to the Union.
See entry for August 10, 2001.
08/04/2001
Another Reshuffle: Estifanos and Gabriel Out; Kibrom In
Gedab News bungled this one; but not by much.  Here's what happened: Estifanos Seyoum was fired (another victim of the Open Letter.); Gabriel was demoted to his position.  Then, Kibrom (a new favorite) was promoted to Gabriel's old position.
Brigadier General Estifanos Seyoum, head of the Inland Revenue Department has been replaced by Mr. Gabriel Fassil, Economic Advisor in the Presidential Office. Formerly in charge of the Army Logistics Department, Brigadier General Estifanos Seyoum is a signatory to the "Open Letter."
08/07/2001
Military And Plainclothes Police Guarding Asmara University.  University of Asmara is being  guarded by the Army and plainclothes police officers. The police are trying to discourage crowding around the university and dispersing students. Our sources also indicated that exit roads from Asmara to other towns are being checked to monitor student movement.
All true.    Who are the "Plainclothes police?"  These are the special commando unit that was put together AFTER the end of the Eritrea-Ethiopia War.  And, yes, General Wechu is in charge.  Again.
08/10/2001
Semere Kesete: Arraignment On Friday August 10.  Semere Kesete, the president of Asmara University's Student Union, who has been under arrest without warrant since July 31, was arraigned today…..  The arraignment seems to be in response to a High Court ruling issued on 7 August ordering the sixth precinct of Asmara's police department to present Semere Kesete to court….  After the court gave its decision, our sources said that "the military police rounded about 300 students and put them in the Stadium of Asmara (Chichero)". The students were there until this report was filed.
Long after his 48hours had expired Semere Kesete was arraigned at a lower court (under a hoebus corpus filed by the student union) and the judge ordered his release. The Attorney General's office requested additional time to find something to charge Semere Kesete with and a 28-day remand was granted.  Students who attended the court hearing and those gathered outside behaved in an orderly and peaceful manner.
08/10/2001
Awate.com learned that Eritrea's Chief Justice of the Supreme Court, Teame Beyene, has been Frozen. The Minister of the ministry of justice, Fozia Hashim, ordered Justice Teame to hand over all the documents in his office and leave. Minister Fozia Hashim didn't   present Justice Teame with any form of written document.  Justice Teame had earlier lambasted the President's Office for intruding into the affairs of the Court. He made that remark on July 23, in a speech he delivered at the conference of Eritrean scholars, academics and politicians that was held in Asmara.
See entry 7/26/01.
08/15/2001
Sherifo was told that his office is no more his On Wednesday, August 15, 2001, traffic police stopped Sherifo's car and ordered his driver out of his seat and drove the car away. Sherifo was in his office for two hours until 11 AM when guards from the President's office informed him that they have orders to get him out of the office. Asked about the incident by a reporter, Sherifo said that "the car and the office is government property; but they could have done it in a proper legal manner instead of force".
This is one of those "drip-drip-drip"things that makes people say, "are these people going to be sitting ducks and wait to be picked one by one?"
08/15/2001
Last Friday, military police hauled university students to a training location in the Semhar region called Wi'a, one of the hottest spots in Eritrea. So far, no news has come out of the camp since then but observers said that the students were taken there "to be punished."
This is too fresh in the minds of most readers to require a reminder.  That the purpose was for "punishment" has been confirmed by the government, albeit using the word "me'eremta."
08/20/2001
Death of Yemane: "Purposely Done;to teach us a lesson"
Too fresh to warrant comment.