Eritrean #Enough Movement Concludes Its Meetings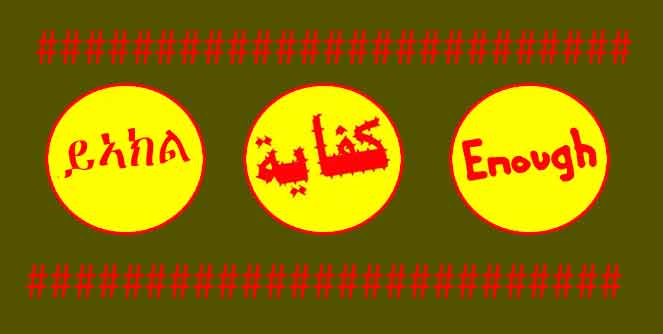 After a long period of clustered preparation in many US cities, the Eritreans activists' campaign culminated in a large meeting in Washington DC between May 23 until May 25.
The Eritrean movement was initially inspired by the Arab Spring in 2012.
In late 2010 Mohammed Bouazizi, a frustrated young street vendor set himself on fire in protest against the injustices in Tunisia. Bouazizi's sacrifice inspired Tunisians to protest against their government and forced the Tunisian dictator, Zen Al-Abedeen Bin Ali to flee the country in January 2011, after ruling it for 23 years. He fled to Saudi Arabia where he sought refuge and where he is still living.
The Bouazizi type of protest reached Egypt where a man set himself alight. Weeks of popular protest ensued and by February 2011, the Egyptian protest intensified forcing Hosni Mubarak to step down ending his 30-year rule.
In October 2011, a similar uprising in Libya resulted in the killing of Muammar Al Gathafi who had ruled Libya for 42 years.
Meanwhile, the uprisings that spread to many Arab countries is either continuing with great human and material cost, or has attracted foreign interests that complicated the situation leaving several countries in abysmal conditions.
The Syrian uprising that started in March 2011 in the wake of the Arab Spring has resulted in worse conditions and incited Russia, the USA, the Gulf Arab countries, and Turkey to get involved. So far, the situation in Syria has transformed into a civil war producing about 7 million internally displaced people as well as about 5 million refugees who left the country.
By 2014, the Islamic State (ISIS) had controlled large territories in Syria with an estimated 8 million population under its mercy.
In Yemen, the Arab spring started in January 2011 just after the Tunisian uprising, and by 2012, after a failed assassination attempt, Ali Saleh who ruled Yemen for 22 years was forced to resign. And though Abdrabbuh Mansur Hadi was elected as his replacement, Ali Saleh continued to play political role and allied himself with the Houthi movement. However, in December 2017 his alliance with the Houthis came to an end and he was killed while fleeing from his palace.
Soon, the Yemeni uprisings and protests turned into a full-fledged civil war, and finally with the involvement of Saudi Arabia and the UAE, it became a wider regional conflict. Since then, the two countries have been bombing Yemen turning its cities into rubble and causing a widespread disease, hunger, and a collapse of most of the vital civil services.
In addition to the above countries, Sudan and Algeria have been continuing the protests since the spread of the Arab Spring though both protests were on and off for different reasons. Currently, both countries have reached decisive moments in their attempt to usher a post-dictatorship era. However, observers believe the two countries risk ending up with another dictatorship as evidenced in Egypt the chain of events finally brought General Abdulfatah Al Sisi to power.
Eritrean #Enough Campaign
The Kifaya movement had its origin in 2004 when the Egyptian Movement for Change (EMFC) made it its rallying cry in protesting against the regime of Husni Mubarak.  It survived in a relatively low profile until 2011 when it joined the Arab Spring protests when many social-media savvy young Egyptians became part of the movement. Thus, the Kifaya slogan was popularized and became synonymous with the Arab Spring.
Eritrean activists adopted the #Kifaya slogan inspired by the Arab Spring. And by November 2011, Eritrean activists fully adopted the slogan and launched the Eritrean Youth Solidarity for Change (EYSC), a Facebook movement that brought together several other groups under one umbrella. However, by 2013, the group ceased to exist.
Last year, the #Kifaya movement was resurrected again (#Enough in English and #Yiakl in Tigrinya) and it soon gained wide acceptance. Following an extensive campaign, the #Enough movement established affiliates in 35 cities across the USA and an overwhelming number of Diaspora Eritreans joined it.
Finally, in coincidence with the Eritrean Independence Day (May 24), the movement called for a  countrywide conference in Washington, DC. Eighty-one elected representatives from 35 cities, and hundreds of people attended the conference.
The movement carried out a popular rally in Washington, DC, where a large number of Eritreans participated.
In its first conference, the movement formed a congress composed of the representatives of the cities and elected a 35-member central council. It also delegated the seven-member organizing committee to act as an executive body for a month after which it is expected to elect a permanent committee.
The members of the transitional executive members are:
Weyni Beyene, Dr (Miami, FL)
Tekie Tewelde (Cincinnati, OH)
Mahfuz Ibrahim (Washington, DC)
Aklil Hailu (Denver, CA)
Tirhas Berhe (Indianapolis, IN)

.Substitutes:

Tesfahiwet Kidane (Houston, TX)
Tesfay Kibrom, (Phoenix AZ)