Eritrea Suffering from Persistent Water Shortage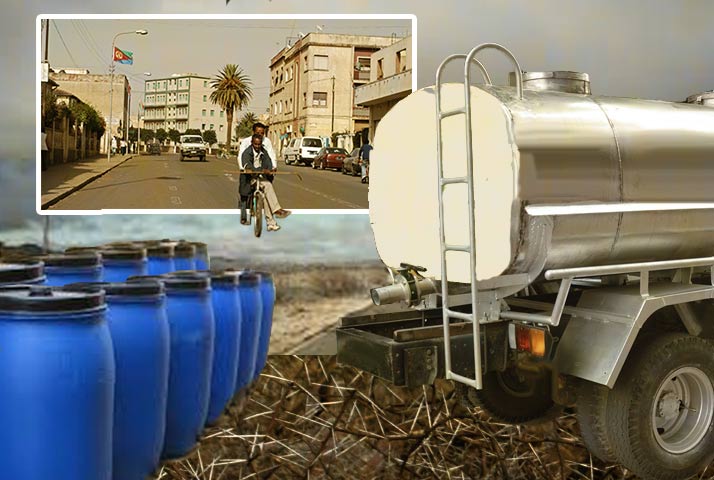 Residents of Asmara and other towns are still lining up in the streets alongside their famous blue water barrels. Once every week or ten-days, they wait for the water tankers with coupons in hand to get their rations that is distributed by the ruling party.
Each home is considered a residence of one household only and regardless of its size, it receives a barrel-full of water at the price of 10 Nakfa with a coupon.
The tankers are usually late in arriving by a day or more, and once they arrive, they stop at designated stations on the street to supply the neighborhood whose residents place their barrels in a long queue a day or two ahead to secure a place, leaving their children there to guard the barrels.
The residents always complain that the government supplied water is usually brackish and rarely do they get low salinity water. Worse, they say that the supply is so little it is hardly enough for cooking and drinking, "showers and washing clothes, particularly for the poor, is a luxury only a few can afford."
Parents are concerned about the health of their families since the water that is drawn from deep wells is salty, and that which is drawn from shallow wells is untreated and could pose health hazards.
Urbanites, particularly residents of Asmara and other towns, usually disinfect the water by adding chlorine and other tablets which are sold in local pharmacies. And though high doses of the chemical are hazardous to their health, according to AB who works for an international NGO, "the people are using chlorine haphazardly, and it is likely the longtime repercussion to their health could be disastrous."
Since the last rainy season, the government of Eritrea has been reporting that the country had a good season and received adequate rains. But that did not reflect on the amount of water supply.
A resident of Asmara said, "there is enough water in the ground and above it, but the city water pipelines are too old and inefficient, loss due to leakage is usually as high as 50%." However, though pipelines rarely reach homes in lower elevations, homes in higher grounds have not received water for many years due to leakage and low pressure from the water supply station.
Private Wells and Businesses
In recent years,some people have also been complaining that the government has resorted to trespassing to their homes and sealing their private wells. AB explained, the "ruling party cadres think it is not fair to allow one household to have ample water while another goes thirsty." He added, "maybe they believe it is a form of justice to deny water to both households."
The acute water shortage has also injected life to a relatively new business, "fiberglass containers that hold about 500 liters of water are selling for around 22,000 Nakfa, and many are buying them." But such a large container can only be filled with water from the black-market at about five times its regular price. The water is supplied by syndicated tanker drivers who fetch it from the countryside or from the government controlled wells in the city..
Usually, the major clients of the black market are businesses and vacationing Diaspora Eritreans who buy large volumes of water at any price, "from syndicated tanker drivers who work for officers of the ruling party." However, if an individual tanker driver is caught selling water outside the official channels, both the seller and the buyer are charged with corruption and face severe punishment.
Since early 2014, president Isaias Afwerki has been staying outside Asmara and working from a makeshift office around Adi Halo, a village close to the source of the Mereb River and the Mai Nefhi water reservoir. It is believed he is supervising the construction of a dam that is supposed to increase the water to Asmara, the national capital.