Bronwyn Burton And Nevsun's Gift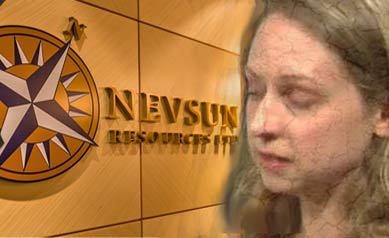 In replying to the questions of the French journalist and writer, Léonard Vincent, Nevsun resources admitted to offering a monetary "contribution to the Atlantic Council last year because [it was] impressed by their ongoing constructive work on Eritrea."
Mr. Vincent has asked whether Nevsun Resources, a Canadian mining company, has sponsored Ms. Bronwyn Bruton's Atlantic Council. Nevsun stated the following:
"Nevsun made a contribution to the Atlantic Council last year because we were impressed by their ongoing constructive work on Eritrea. It is standard for a profit company to make a gift to a research institute whose work relates to its business. The contribution was an unrestricted gift which means that it was a no-strings attached contribution to be used in whatever way the Atlantic Council saw fit. The Atlantic Council was and is not required to report to us on the use of funds, so we do not actually know how the funding was used. (…) Signature: Todd Romaine VP, CSR Nevsun Resources Ltd."
Mr. Vincent has "sent a list of questions to the Atlantic Council's Africa Director last week" for which he has not received answers yet.
In 2014, Ms. Burton suddenly appeared as a fierce defender of the Eritrean regime whose image she has been attempting to polish while the world community is still debating at the UN whether to refer it to the International Criminal Court (ICC).
Due to its serious human rights violations against the Eritrean people, particularly the youth of the slave labor who are forced to indefinite conscription, on June 27, 2014 the UN established a Commission of Inquiry on Eritrea (CoIE) through resolution 26/24, "to investigate all alleged violations of human rights in Eritrea, as outlined in the reports of the Special Rapporteur."
In 2015, the UN extended the mandate of the CoIE for one year "in order to investigate systematic, widespread and gross violations of human rights in Eritrea" and to determine if the "violations may amount to crimes against humanity."
In its 2016 report, which was released  last week, the CoIE stated that out of the (11) crimes that constitute "crimes against humanity", Eritrean officials, including at the highest level, have committed–and continue to commit–eight (8) of them and that these crimes  are widespread and systematic and purposeful: to "establish, consolidate and maintain total control over the Eritrean population."
Meanwhile, Ms. Burton of the Atlantic Council has been extensively writing to cast doubts on the CoIE findings and attempting to promote the now too exposed regime of Eritrea that rules with impunity, unelected, since the independence of Eritrea in 1991.
The COiE has recommended to the Security Council to "Refer the situation in Eritrea to the Prosecutor of the International Criminal Court."
Related reading:
Commission of Inquiry on Eritrea: Report Summary
Second report and supporting documents, June 2016
First report and supporting documents, June 2015
Come And See (What We Want You To See)!
Egypt To The rescue: Isaias' Game Interrupted