Dutch Parliament Targets PFDJ and Company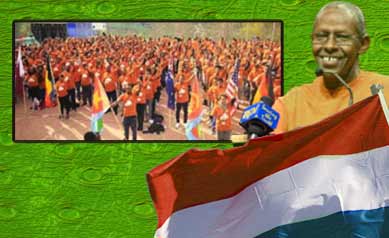 Two hours ago the Dutch National Parliament tabled a resolution proposal that seems to target the activities of the sole ruling party in Eritrea, the PFDJ, and its Dutch and European affiliates.
Most of the clandestine activities of the PFDJ in the Western countries is handled by the young PFDJ (YPFDJ), a youth Diaspora clone of the ruling party which was formed and operates under the patronage of Yemane Gebreab, the adviser to Isaias Afwerki, the president of the Eritrean regime.
The Dutch National Parliament has proposed the investigation of the role of the Eritrean official emissaries in Holland as well as in the European Union. It also proposed the investigation of the activities of all affiliated entities of the PFDJ that operate as quasi-community organizations.
The proposal also curtails access of the PFDJ affiliate entities from accessing centers where asylum seekers stay. In financial aspects, the motion proposes the investigation of subsidies provided to the affiliated organizations.
In recent years, European countries have been paying much attention to the Eritrean situation because of the dire human rights situation in the country which has triggered an immense flow of refugees to Europe. Based on the proposal, Eritrean refugees will get extra attention to be able to participate and integrate in the Dutch society.
Citing the unresolved border demarcation between Eritrea and Ethiopia, the proposal indicated that active diplomacy was needed by the UN to resolve border issue. It also proposed to support the UNHCR in an attempt to contribute to the improvements of human rights conditions in Eritrea.
Recently, the European Union granted a 200 million Euro to Eritrea and the proposal wants the EU to reconsider the conditions for the development aid.
The most serious proposal, however, is the cancelation of asylum requests by PFDJ supporters and the investigating of the financial transactions and Eritrean embassy and affiliated entities in Holland. Our source stated, "this shows that the tolerance of the Dutch lawmakers towards the Eritrean regime has been depleted."
Dutch and foreign observers and activists close to the events in Holland said that prior to today's session, Eritrean activists have "met with Dutch parliament members and have handed a petition signed by 10.000 people, demanding justice for their compatriots."
Last week, the UN Commission of Inquiry on the human rights situation in Eritrea has recommended to the Security Council to refer Eritrean officials to the persecutor of the International Criminal Court.
* Official Dutch pariament documents
**details from Samuel Ernesto's page