Human Rights Council Advances Eritrea Case To Security Council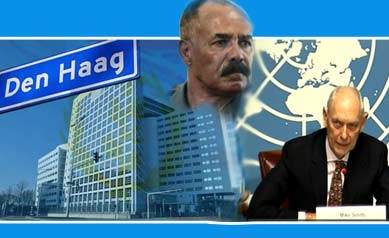 In its June 8 report, the Commission of Inquiry (CoI) on Human Rights in Eritrea had made recommendations to eight parties: (1) the State of Eritrea; (2) the UN's Human Rights Council (HRC); (3) the UN's High Commissioner for Human Rights; (4) the UN's General Assembly; (5) the UN's Security Council, (6) the African Union; (7) Member States; and (8) Transnational corporations. Today,  the UN's HRC, a trigger to all the other recommendations,  accepted by consensus all of the Commission's recommendations, including the transmission of its report to the General Assembly, the Secretary General and the Security Council for "follow-up on its recommendations."
The Human Rights Council is made of 47 member states, serving a three-year term.  Five of the 47 are African states.
The resolution was drafted by neighboring Djibouti and Somalia and, over the last week, there had been claims that the language was "watered down" and the resolution would die at the Human Rights Council.
The "water down" refers to changes in the language of the preamble, routine for a body that likes to decide by consensus or without a vote.
The government of Eritrea, which had characterized the report of the Commission of Inquiry as the opinion of three individuals, conducted an intensive effort to defeat the resolution and tabled its own resolution which mostly commends it for progress it has made.
Nonetheless, the Human Rights Council has resolved to accept the CoI's recommendation to refer the report to all relevant bodies which certainly includes the General Assembly, the Secretary-General and the Security Council.
As of today, the report can no longer be dismissed as that of a "three-person panel."
Because Eritrea is not a signatory to the Rome Statute, a referral to the International Criminal Court (ICC) can only happen if the UN keeps Eritrean human rights issue on its agenda, and the Security Council makes the referral.
The Security Council can expedite the issue by referring the case to the Chief Prosecutor of the ICC, Fatou Bentouda, who is well regarded and, because she is a Gambian, able to counter claims that the ICC targets only Africans.