Awate.com and Negarit 2021 Fundraising Drive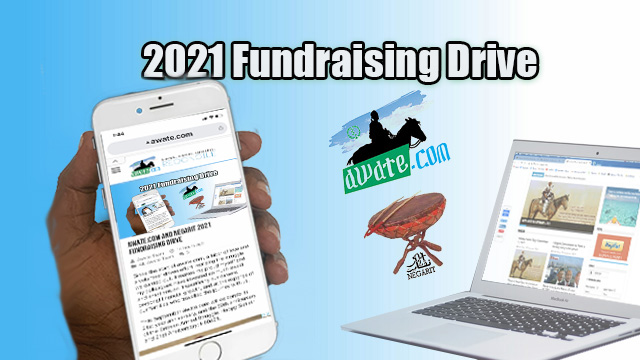 https://gofund.me/823dd2b7
Since the launch of awate.com on Sept.1, 2000, it has been a labor of love and a volunteer driven effort. Today, remembering the struggle we carried out, it makes me proud that, together with my colleagues, we have invested so much sweat and emotions on it sacrificing our careers, personal financial growth, and at the expense of our families who travelled the journey with us.
This September, awate.com is celebrating its 21st anniversary, in tandem with the 60th anniversary of the Eritrean Armed Struggle. Happy Sixtieth and 21st Anniversary.
Unfortunately, the objectives we set to achieve 21 years ago, our goal to see peace, freedom, and justice in our country, is not yet realized. However, we hope we will celebrate our Silver Jubilee in Eritrea after the end of the PFDJ oppression, when Eritrea will be a serene home embracing all its citizens–unsegmented and unfragmented, but a cohesive nation bonded by the national identity of Eritreanism.
To help in achieving the above lofty goals, since its inception awate.com has been providing its usual services with dedication and exemplary patriotism. And everything we do at awate.com, including the programs of the three-year old Negarit, is part of the productivity of the awate family. But all of that doesn't come for free. It requires an investment from our meager resources, our time, and the other unattended individual interests.
AS you know, we stopped our fundraising drive that we announced on Feb 2020 after the world was hit by the Corona pandemic. We are now restarting it after almost two years and freezing.
Today, allow me to announce the start of our fundraising drive for 2021 by appealing to all our friends, supporters, and loyal readers and listeners. You always gave us the morale support; but now we need your material support.
The Awate Team has toiled for years inspiring, emboldening, and informing many, and it will not mind doing it all over again, though if we have to do it, we hope it would be in a different circumstance, in a free Eritrea.
Over the years, the sad lessons we learned is that our political culture is inflicted by frustrating partisan, clannish, tribalist, and sectarian ailments. For instance, if we compare awate.com to other similar institutions, we will easily discover the difference. Awate.com is the poorest and the least subsidized operation because it doesn't appeal to any sub-national constituency and doesn't rely on deep-pocketed foreign funders. That's why it could not establish a satellite station or expand its programming, as others do. But limitation of resources had never limited our services.Unfortunately, Awate.com, the trailblazers in Eritrean media, doesn't have the required financial support to embark on projects that requires heavy funding.
Awate.com lacks the commitment of a cohesive segment of our people because it doesn't appeal, overtly or covertly, to sub-national sentiments. Its mission has always been Eritrea-focused. It remains so. And it will remain so in the future. Had it appeased a certain sect, tribe, region or political position, at the expense of the Eritrean national interest, it would have secured the full support from different segments. However, its principles are dedicated to pursuing the interest of an undivided Eritrea. Sadly, it's natural that divided constituencies would have divided loyalties. In short, we are left alone with a few dedicated patriots, the majority of whom do not even think awate.com needs their material support.
Some years ago, we set our yearly budget at a humble $12,000. However, we only reached that target in 2018 with a little surplus. In 2021, we still carry arrears from previous years and that is loaded in our credit cards: $19,000 on the red. Therefore, in this drive, we are aiming for to raise $19000, including the yearly $12,000 budget for 2021.
Kindly remember that we have never received a single cent of funding from outside sources as many activists do. We never received support for the advancement of the interest of a specific social group. The little support that we get is provided by Eritreans who believe in the national goals that awate.com advances. We hope you will all contribute to alleviate the financial burden that the Awate Team has been carrying.
Such an undertaking requires large number of people to chip in. For instance, $19,000 can be raised in a matter of days if 190 people contributed $100 each, or 280 contributed $50 each, or 1900 contributed $10 each. The users and friends of awate.com and Negarit combined are in the tens of thousands; we have the numbers, what's needed is action. Please contribute generously.
Finally, we would like to express our special appreciation for the support that we get from the few dedicated friends and supporters: Friends of Awate in Australia; the India graduates; an exceptionally generous man living in Africa; and several individuals some of whom have been extremely generous. As we celebrate September 1, our double anniversary, we are grateful for all those who stood with us.
Thank you in advance and Happy September 1st.
The following are ways to help you contribute:
1. Credit and Debit Cards : Below the "Support awate.com" icon on the frontpage, there is a form through which you can make your donation.
2. PAYPAL: Click the Orange Paypal icon and make your donations. Your contributions will appear on your bank statement as "Paypal*awate.com".
3. Bank Transfer:
Account Name: Awate.com
Bank: Bank Of America,
Acct #: 29570 76732
Swift ID: BOFAUS3N
4. Other Payments: Contact us at for another alternative payment transfer methods.
5. Please share this page in your circles and help spread make the drive successful.
6. Also, please contribute as generously as you can and we appreciate your support in advance.
Thank you.
Awate Team
NB: we apologize this page had many typos and errors that we have corrected. WE made a scheduling mistake and it was published in its draft form.