Uthman Sabe, A Towering Intellectual and a Prolific Writer!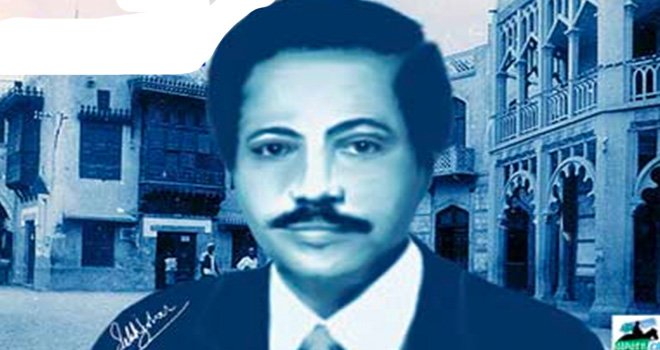 Uthman Sabe was a household name in Eritrea in the '70s and '80s and his legacy remains to be one of the most profound and enduring. Sabe has left indelible mark on the contemporary Eritrean history. No book on Eritrean struggle from the '60s onward can be complete without the mention of Sabe. To many Eritreans he is known as one of the key leaders and founders of the Eritrean liberation drive. From the inception of the ELF to the turbulences of  factional splits, Sabe remained a central figure. To the outside world, he was the most recognizable face of the Eritrean struggle. Viewed within a broader and contextualized perspective, Sabe stands out as an ardent nationalist and a passionate fighter for the cause of his people. Observed within a partisan, factional and propogandist view, he, like many other historical figures, could possibly be seen differently.
Sabe is widely known as a political leader; but he was more than a simple politician; he was also a well-rounded intellectual and a prolific writer. He is the author of multiple books, articles and opinion pieces. Most of his writings, if not all, are in Arabic, which makes his intellectual output more known to the Arabic reading Eritreans as opposed to others. A few years ago, I wrote an article in Arabic[1] summarizing and introducing the book of Dawit Mesfin, Woldeab Weldemariam ( 2017), aiming at creating greater awareness among Arabic speaking Eritreans, not only of Woldeab's political history, but also his leading role in advancing Tigrinya literature. The purpose of this article is similar; to give a birds eye view of Sabe's intellectual output and create broader awareness of his contributions. Eritrean intellectual output is on the rise, but the gap between Arabic writers and Tigrinya/English writers remains wide.
Sabe's intellectual legacy
Sabe was born in 1931 in the historic city of Hirgigo, the centuries old capital of the Naib dynasty. He was enrolled in one of the first private schools established in Eritrea by the renown philanthropist, Saleh Kekiya. Sponsored by Kekiya, he went, along with other graduates, to Addis Ababa for further studies. Upon his return, he served as a teacher/principal in Kekiya's school in Hirgigo. As the oppression of Haile Selassie's regime mounted, being a passionate believer in the just cause of his people, Sabe left his country in 1961 to be part of the liberation movement. Beyond the armed and political struggle, Sabe took a lead on articulating the ethos of the Eritrean aspiration for independence. Sabe was a self-taught and well-read thinker. He published a number of books on Eritrean issues, including the following:
History of Eritrea  (تأريخ إريتريا، 1974)
Geography of Eritrea  (جغرافية أريتريا، 1983)
The roots of the Eritrean disputes and ways to address them. (جذور الخلافات الاريترية وطرق معالجتها، 1978)
The relationship of Sudan with Ethiopia throughout history. (علاقة السودان بإثيوبيا عبر التأريخ)
The conflict in the Red Sea basin throughout history. (الصراع في حوض البحر الأحمر عبر التأريخ)
Among all these books, the History of Eritrea is the most significant and to my knowledge, the only one translated to English. It is made up of about 250 pages and it attempts to provide a comprehensive and concise history of Eritrea, beginning from early times to the '60s. It also addresses the social, cultural, religious make up of Eritrea, as well as the geographic outlook of the country.
Sabe also took keen interest in translating to Arabic, Italian and English writing on Eritrea. Noting his limitation in Italian language, he observed that there are more than 200 books on Eritrea written by Italian researchers, such as Conti Rossini, available in the African Museum in Rome. Sensing the need to translate these books, some of these writings were translated at his behest, through the organization that he led, the EPLF. He wrote the introduction to the translated books, highlighting their historical values and pointing their colonial biases. Among the translated are: the books of Italian writers such as Dante Odorizzi's book on Massawa and Ferdenando Martini's book on Eritrea; French writer, Rene Basse's book on Dahlak inscriptions; British writers, Nadel, S. Frederick, on Races and Tribes of Eritrea and Trevaskis's book on Eritrean political transition, and other.[2]
Sabe also wrote countless articles in various periodicals, newspapers published by Eritrean and other organizations. Collectively, they would amount to volumes.
Themes of Sabe's writings
a) Emphasis on history: Sabe took special interest in history, most of his books are focused on Eritrean history. The books that were translated at his behest were mostly historical. This perhaps is a reflection of his belief that the fight for freedom had also an intellectual component, where history was an integral part of it. As he noted, history was widely used as a tool to deny the people of Eritrea their right to self-determination; thus, as he stated in the introduction of his book on the History of Eritrea, he took it upon himself to write a historical narrative that not only refutes the claims of the unionist, but also provides a clear historical evolution of the Eritrean nationhood.
b) Diversity and duality: Sabe recognized the multi-dimensional and diverse nature of Eritrean society as a defining feature. Accordingly, he provides a historical analysis of the source, the nature and extent of this diversity, particularly in his book: The roots of the Eritrean disputes and ways to address them. Sabe not only recognizes the diversity of Eritrean polity, but he calls for respecting it and fostering a tolerant culture. He also emphasizes the need to recognize the broader duality of the Eritrean intellectual outlook, manifested in the recognition of Tigrinya and Arabic as the official languages of Eritrea, as stipulated in the first constitution, ratified by the first parliament. Sabe took a particular exception in defending this linguistic duality, perhaps to counter the anti-Arabic sentiments manifested in the "We and our objectives" manifesto. Furthermore, he highlighted the unhealthiness of the extreme sensitivity of some of the Tigrinya speakers towards Arabic, which he saw as a deterrent to an open, inclusive and tolerant social order in Eritrea.
c) Equal representation: Sabe emphasized the need for equal representation of all segments of the Eritrean society and the need to provide equal opportunities for all. He saw this as the foundation of a stable and prosperous Eritrea. He envisioned this to come naturally in a society where ethnicity and religious affiliation will not be a factor in the assignment of roles or allocation of resources. As such, he rejected the "Lebanese" and "Cypriot" model of allotted power sharing. He equally rejected the attempts of some leaders in the early days of ELF to maintain the dominance of "Muslim Western Lowlanders" and later "the Christian Tigrinya highlanders" dominance. He exposed what he saw as an ideological -Marxist- façade, that concealed a sectarian underlying dominance within certain Eritrean factions, calling for a non-sectarian national power sharing. 
d) Pluralism: As noted by Alemseged, Sabe was personally a devout Muslim. Accordingly, he rejected the anti-religious sentiments within the Eritrean leftist camp. He, however, believed in the separation of state and religion. As noted by his biographer, M. Uthman Abubaker, Sabe described himself as "a democrat and a liberal who believes in the necessity of a plurality of perspectives and parties for the sake of the natural evolution of society." He further said, "My foes are the opponents of these ideals; they believe in oppression and dictatorship." He favoured a parliamentary democracy.
 e) Religious harmony: Sabe recognizes tolerance and peaceful coexistence as core to the Eritrean social norms. He notes that sectarian violence was alien to Eritreans and was mostly instigated by foreign powers. In his book, History of Eritrea, he notes that Eritrean Christians and Muslims coexisted in harmony and it was the foreign -Turkish and Portuguese- intervention that ignited sectarian feuds. Furthermore, as an illustration, he highlights the cordial relationship that existed between the two most important medieval Eritrean entities; the Bari Negasi in the capital Debarwa and the Naib in the capital Hirgigo.
 f) National Unity: Sabe was deeply embroiled in the factional splits from the early days of the High Council –المجلس الأعلى . He articulated his opinions and positions on what led to these splits in a number of his writing, particularly The roots of the Eritrean disputes and ways to address them. Sabe emphasized the paramount importance of national unity. He believed that the only way to resolve factional splits was through an honest and democratic dialogue. He decried attempts to use violence and refusal to engage in dialogue and warned of its far reaching adverse consequences.
Sabe's dream
Sabe's writings are lucid and illustrious of his well-rounded knowledge. His command of the Arabic language is admirable. However, he was not an academic writer; he was a passionate advocate of a cause. In some of his writings, he sounded like an Arab nationalist and sometimes a leftist -where he uses Marxist-Leninist arguments-. However, he was none of the two. Perhaps this could be the effect of the prevailing political climate in the countries that were actively supporting Eritrean struggle, such as Iraq and Syria, who promoted Arab nationalism and socialist ideology.
Similar to Woldeab, Sabe was a teacher and school principal. As such, he took keen interest in Education. He took a leading role in establishing a dedicated body "Education Agency –جهاز التعليم" that oversaw the establishment of schools across the refugee camp in Sudan and securing university scholarships for Eritrean students in Libya, Iraq and elsewhere.
As a keen researcher, Sabe had a dream. In his book the History of Eritrea, he notes,
"I look forward to dedicate my self -if I survive- to contribute to the writing of the history of my country -after the victorious return by the will of God-, based on field research of the land and the people concerned, rather than referencing from sources authored by foreign researchers, whose understanding of Eritrean society no matter the efforts they make, will be below the ability of the Eritrean who is the son of the environment and is familiar of its intricacies."
Sabe died in 1987 -at the age of 56- before seeing his dreams becoming true.
Objective reading of historical figures
Objective reading of history and a clear understanding of its key players is essential and critical. Admirers, typically, overrate the pros and downplay the cons. Detractors, overlook the accomplishments and propagate failures. As is the case with prominent figures in history, Sabe has both detractors and admirers who would want to present him as they feel rather than as he was in reality. Like any other human figure, Sabe, had his own flaws and limitations; however, given his context he was an exception as an intellectual, a fighter for a cause and a maker of history. There are multitude of books today on Eritrea that might surpass Sabe's writing in their scope, but Sabe will still be credited for being among the first to take a lead on the intellectual national front.
A number of authors have written about Sabe. His closest associate, Muhammad Uthman Abubaker dedicated a full book for the biography of Sabe -about 698 pages-, titled in Arabic:
عثمان صالح سبي والثورة الأرتري  1998
Alemseged also dedicated few pages of his book:
ኤርትራ ካብ ፈደረሸን ናብ ጉበጣን ሰዉራን, 2016
Sabe will remain as one of the interlockers of contemporary Eritrean history, an objective study of his legacy is indispensable for any researcher.
دانتى أودو ريسي، المستعمرة الأريترية
مارتيني، أرتريا في أفريقيا الإيطالية
رينيه باسيه، النقوش الكتابية لجزيرة دهلك
نايدل، التركيب السكاني في أرتريا
تريفاسكيس، أرتريا مستعمرة في مرحلة الإنتقال
وثائق الأمم المتحدة